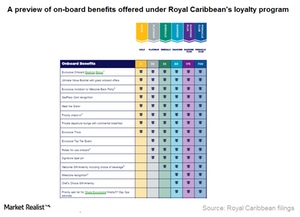 Marketing contributes to Royal Caribbean's growing customer base
Loyalty program
Royal Caribbean (RCL) offers all cruise company services, including pre- and post-hotel stay arrangements and air transportation. The number of passengers carried by the company has increased at a compound annual growth rate or CAGR of 5.3% from 2009 to 2013. In 2013, the company carried around 5 million passengers.
Just as airlines have frequent flyer programs to reward and retain loyal customers, cruise liners also run these programs. The company's brands Royal Caribbean International, Celebrity Cruises, and Azamara Club Cruises offer rewards through their loyalty programs, Crown & Anchor Society, Captain's Club, and Le Club Voyage, respectively. While Crown & Anchor Society had more than 7.8 million members worldwide, Captain's Club and Le Club Voyage together had 2.5 million members.
Carnival Corporation operates the Very Important Fun Person (VIFP) club to reward loyal customers. Norwegian Reward is Norwegian Cruse Line's (NCLH) loyalty program. ETFs such as the PowerShares Dynamic Leisure and Entertainment Portfolio (PEJ) hold shares of these cruise operators.
Article continues below advertisement
Under these programs, members are awarded points or credits that can be redeemed in future sailings for priority ship embarkation, priority waitlist for excursions, complimentary laundry service and Internet, or even complimentary cruises. Cruise points are rewarded in proportion to the number of cruise days and cabin category. The benefits differ based on membership tier. A minimum number of points is required to take advantage of reciprocal membership benefits across all loyalty programs.
Implementing IT solutions
Royal Caribbean has also been proactive in implementing IT solutions to safeguard and enhance its passenger's onboard experience. Royal Caribbean's newer ships include fully converged networks to support wireless connectivity for increasing numbers of guests demanding Internet access from their smartphones, tablets, laptops, and game consoles. The company also ensures safety through these applications. An iPhone application, for example, allows parents to track their children's location on the ship at any given moment. The ability to manage complex IT infrastructure facilities with a minimum number of skilled staff is key to gaining a competitive advantage through advanced technology to enhance passenger experience.