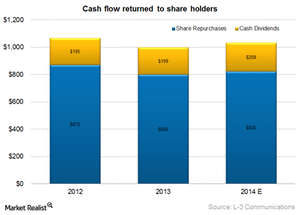 Is LLL returning value to shareholders?
By Ally Schmidt

Updated
Shareholder value
A company can return value to its shareholders in many ways. It can give them dividends, share repurchase options, and stock appreciation.
Is L-3 Communications Holdings Inc. (LLL) returning value to shareholders? This article will explore that question.
Article continues below advertisement
Stock performance
L-3 Communications has consistently outperformed the SPDR S&P 500 ETF Trust (SPY) over the last year. The company returned 20% to its shareholders, while the SPY returned 12%. In the same period, competitors Raytheon (RTN), Rockwell Collins (COL), and Exelis (XLS) returned 21%, 15%, and -7.2%, respectively.
LLL has seen positive effects from realigning its business to rely less on the US Department of Defense. The company also has declared buybacks of an additional $1.5 billion in shares up to the second quarter of 2017. This was good news for investors and shareholders amid the cloud of sequestration, which has been hurting the top line of defense companies in recent times.
As of September 26, 2014, LLL had $508 million in cash and cash equivalents. Net cash from operating activities in 3Q14 totaled $390 million.
Why repurchase shares?
In an attempt to outplay sequestration damages, defense companies have shifted their attention to exploring newer markets, cutting costs, and improving margins. These companies' share repurchase programs not only deploy cash to create shareholder value, but also reveal financial strength and enhance operational capabilities.
Share repurchase is simply an instrument used by a company to return cash to its shareholders, thereby creating value for them. The practice indicates solid financial performance by the company and a strong balance sheet bottom line. It also enhances confidence in the company's long-term outlook. The repurchase of shares represents cash deployed for the benefit of the company's shareholders. This serves the company well over the long haul.
L-3 has done well in rewarding its investors. The company has created shareholder value by giving constant dividends and deploying a share repurchase program.
In the next article, we will look at L-3's future prospects.