Key customers in the telecom industry
Post-paid users pay telecom companies periodically. The users pay after they received the service. They typically subscribe to plans for a fixed term.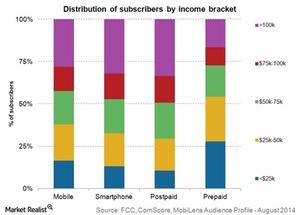 Wireless consumers 
In wireless, residential customers primarily subscribe to voice and data services. There are two types of wireless customers:
post-paid
pre-paid
Post-paid users pay telecom companies periodically. The users pay after they received the service. They typically subscribe to plans for a fixed term—usually one to two years. Pre-paid is the other model. Users don't have to subscribe to plans for a fixed term. They have to pay for usage minutes before they start using the wireless service.
Article continues below advertisement
Article continues below advertisement
Consumers are price conscious. According to a report from the FCC (Federal Communications Commission), and as the above chart shows, a large proportion of customers under the $50,000 income bracket use low-cost mobile phones instead of smartphones. Also, they predominantly use pre-paid over the higher priced, fixed contract post-paid connections.
However, wireless consumers in the US are mostly post-paid. The switching costs are high. Most of the wireless services offered by different telecom companies are similar. Consumers have moderate bargaining power to get products and offerings at reduced prices. They can get high-quality customer services and access to added choices—like device financing options.
Telecom companies reduce core services' prices—like voice. They offer the services as a bundle with more appealing data plans. This helps the companies attract and retain customers. Also, they invest significantly in upgrading their networks to provide better services to their customers.
They incentivize other carriers' customers to migrate to their network by offering to buy out any monetary switching costs that the customers may incur. These costs are called early termination fees.
In January 2014, AT&T (T) was the first company that offered early termination fee buyouts. It was only for T-Mobile's (TMUS) customers. The offer was for a period of one month. It was followed by T-Mobile, Sprint (S), and U.S. Cellular (USM). T-Mobile's offer is still open for customers of AT&T, Verizon (VZ), and Sprint. Additionally, Sprint's early termination fee offer is still open. It's aggressively targeting other carriers' customers. Please read Must-know: Sprint is resorting to price cuts to learn more.
Wireline businesses
Wireline is dominated by businesses. Enterprises are the significant customers in the wireline segment. Medium and large enterprises have a multinational presence. Their telecommunication needs are more sophisticated than consumers' needs. They require geographic coverage, reliability, and customized services. They also need a fixed-line infrastructure for their dedicated lines. They need networking solutions. They also need advanced video and voice communications. Therefore, telecom services' pricing for enterprises typically has a high fixed cost component. They also have a longer-term contract.
Due to high switching costs and unique service requirements, enterprises have lower bargaining power. They're less price sensitive than consumers. However, enterprises' spending is affected by economic conditions and expectations.