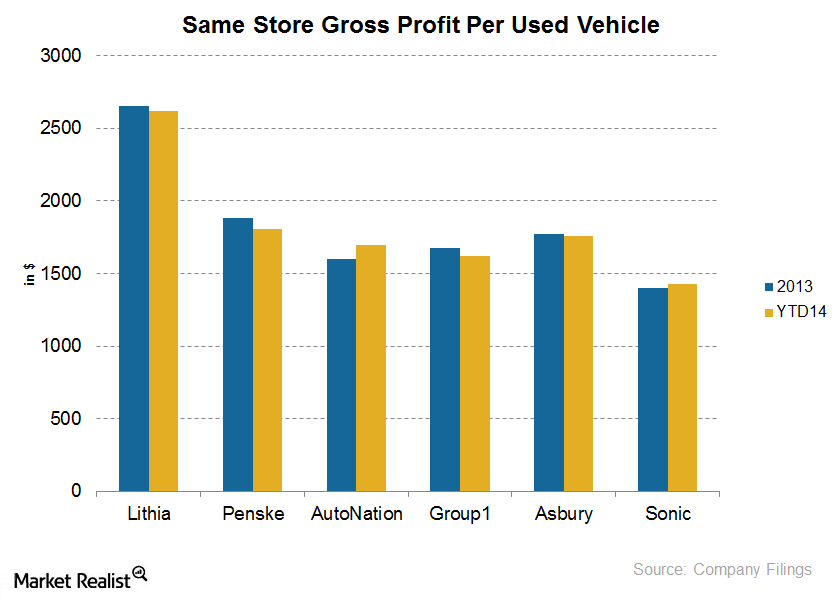 Key analysis of Lithia's used vehicle operations
Overview of Lithia's used vehicle operations
Lithia's used vehicle operations contribute to 26% of its total revenues and ~24% of its total gross profit. Its used vehicle operations can be broken down into three categories:
Manufacturer Certified Pre-Owned Vehicles (or CPO): This category comprises 29% of the nine months ending September 30, 2014, used vehicle unit mix. Under this category, Lithia sells used vehicles backed by manufacturer certified programs. Buying a certified car provides benefits such as a manufacturer's warranty and roadside assistance. Buying these vehicles greatly reduces the risk of any out-of-pocket repair costs that vehicle owners might incur soon after purchasing a used vehicle. CPOs demand a premium over their non-certified counterparts.
Core Vehicles: This category comprises 51% of the sales of three- to seven-year-old lower-mileage vehicles with a Lithia certified warranty. Under this program, the warranty might be offered only at the dealership where the vehicle was purchased, and it may cover only the primary components of the vehicle. A customer who is less keen on paying high premiums required under the manufacturer CPOs might consider this plan as a cost-effective alternative.
Value Autos: Comprising 20% of the used vehicle unit mix, older higher mileage vehicles go through a lesser degree of reconditioning and are offered to customers who seek lower car payments.
Article continues below advertisement
Same-store gross profit per vehicle slips 
On a same-store basis, retail revenues for used vehicles increased 14.2% year-over-year (or YoY) to $888.1 million in the nine months ending September 2014, due to unit growth across all categories. On a same-store basis, gross profit per vehicle decreased 2% YoY to $2,619, due to an inventory pile-up. This forced many Lithia stores to sell CPOs at lower prices to maintain inventory levels and prevent certain categories of vehicles from being over-aged.
Nevertheless, Lithia remains well ahead of its competitors Penske (PAG), Autonation (AN), Sonic Auto (SAH), Asbury Automotive Group (ABG), and Group 1 (GPI) in terms of same-store gross profit per vehicle. These peer companies have an average track to $1,662 compared to Lithia's $2,619. The larger share of CPOs and core vehicles in its sales mix drives Lithia's significant lead in same-store gross profit per vehicle.
During the nine-month period ending September 2014, Lithia sold an average of 55 retail used vehicles per month, compared to 52 per month a year ago. Unsold vehicles due to inventory age are sold in the wholesale market at inventory cost. These transactions do not contribute meaningfully to gross profit.