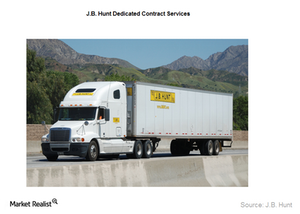 J.B. Hunt's Dedicated Contract Services segment
By Ally Schmidt

Jan. 5 2015, Updated 1:23 p.m. ET
Dedicated Contract Services segment
J.B. Hunt's (JBHT) Dedicated Contract Services, or DCS, segment supplies customers with drivers and equipment. For 2013, the segment's revenue was $1.2 billion. The segment specializes in the design, development, and execution of supply chain solutions that support virtually any transportation network. Its operations are managed on-site by transportation professionals who work with the customer and its drivers daily.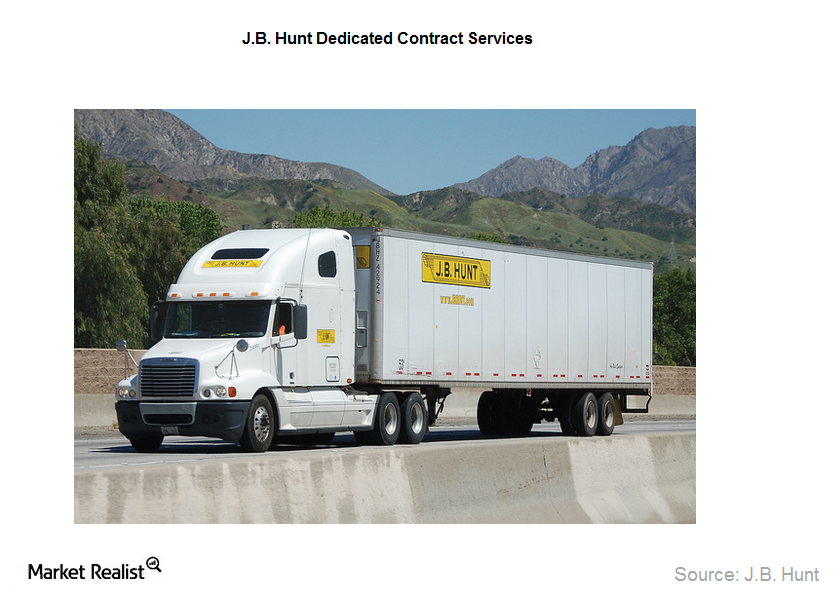 The DCS segment also focuses on private fleet conversion and creation in replenishment, specialized equipment, and final mile delivery services.
Article continues below advertisement
What's private fleet conversion?
Simply put, private fleet conversion is outsourcing your transportation needs to a third party. So, instead of having to manage a fleet of trucks yourself, you leave that process to a professional company. The company has decades of experience in the trucking industry. This allows you to focus on your business' internal processes. At the same time, you get all of the benefits that a fleet can provide.
What's final mile delivery?
Goods are usually transported over long distances by using rail or ship. However, they need to be transported from the freight station or port to their final destination. This last leg of the supply chain is often less efficient. It accounts for up to 28% of the total cost to move goods. JBHT identified the need for such services.
Today, JBHT operates one of the largest final mile cross dock networks in the country. It has more than 90 locations—totaling more than one million square feet of space. These services usually aren't provided by common truckload carriers due to strict service requirements, specialized equipment, and intense driver and delivery personnel demands.
JBHT's competitors include Knight Transportation (KNX), Old Dominion Freight Line (ODFL), and Saia, Inc, (SAIA). These companies are part of the First Trust Mid Cap Growth AlphaDEX Fund (FNY)