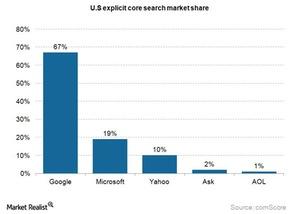 Why Facebook stopped using Bing for its web search results
Facebook improved its search product by ending its online relationship with Bing
Facebook (FB) revamped its search offering by allowing users to search past comments and other information posted by their friends on its site. The company has now stopped including results from Microsoft's Bing search engine through the Facebook search. Earlier, Facebook's search results also included links to standalone websites provided by Bing.
In a conference call with analysts in July, Facebook's CEO, Mark Zuckerberg, flagged searches as one of the company's key growth initiatives, noting that there were more than 1 billion search queries on Facebook every day. Zuckerberg also hinted that this vast amount of information that users share within Facebook could eventually replace the need to search the web for answers to certain questions. Read more about Facebook's plan to develop its own search tool in Market Realist's Why Facebook plans to take some search business away from Google.
Article continues below advertisement
The social network has strengthened its search tool by updating its search for old Facebook posts, revamping its trending news section, and adding a Twitter-like (TWTR) live feed that includes user mentions. The new trending feature, which is on the right side of users' News Feeds, makes it easier to locate information on the day's most popular news stories and find comments related to those stories.
These moves show that the company is realizing the importance of the search market, which is predominantly ruled by rivals like Google.
According to industry research firm comScore, Microsoft's (MSFT) Bing is ranked the second web search provider in the US, with a nearly 20% share of the market. As the above chart shows, Google Sites (GOOG) led the explicit core search market in August 2014 with 67% of search queries, followed by Yahoo (YHOO) with a 10% share.