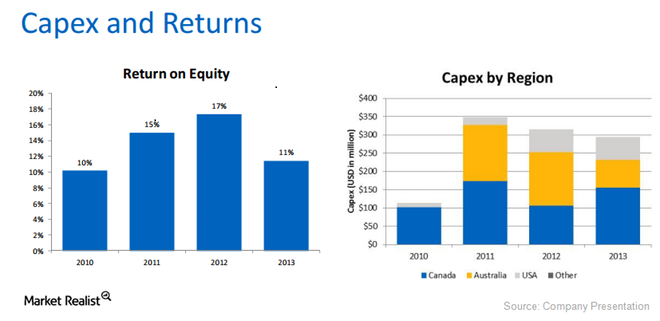 Civeo impacted by customers' plans to trim capital spending
Civeo's major customers are oil and gas, mining companies
Oilfield accommodations specialist Civeo Corporation recently saw activist hedge fund JANA Partners exit its holdings in the company. The company's share price has plunged over 82% since it was spun off from Oil States International (OIS) in May last year.
Civeo owns a total of 17 lodges and villages operating in Canada and Australia. It has an aggregate of more than 21,000 rooms. It also has 11 smaller, open camp properties and a fleet of mobile accommodation assets in the US and Canada. It generated approximately 68% of its 2013 revenue from its Canadian operations, 25% from its Australian operations, and 7% from its US operations.
Article continues below advertisement
Civeo's customers include major and independent oil and natural gas companies, mining companies, and oilfield and mining service companies. Its largest customers in 2013 were Canada's Imperial Oil (IMO) controlled by ExxonMobil (XOM) and Fluor Canada (FLR), and BM Alliance Coal Operations, an alliance between BHP Billiton (BHP) and Mitsubishi (MSBHY) in Australia. Imperial Oil and the BHP Mitsubishi Alliance each accounted for more than 10% of the company's accommodations revenues in 2013.
Civeo sees pressure from declining oil prices
Civeo said the demand for its services depends on its customers' capital spending programs. These programs are related to the construction and development of oil sands, coal mines, and associated infrastructure as well as the exploration for oil and natural gas. These capital spending programs are generally based on the long-term outlook for commodity prices, economic growth, and estimates of resource production.
Article continues below advertisement
When the prices of oil were over $100 per barrel, Civeo was an undervalued company in the lodging business that could have given returns to investors via dividend payments if it had converted into a REIT. But with oil trading at ~$50 per barrel, investors believe that the company doesn't have the financial power to pay dividends.
Civeo's lodges serve some of the most expensive oil wells in North America. As a result, Civeo is one of the first to suffer losses when oil drillers pare back exploration, as shown by a 50% fall in the occupancy rate in Canada.
This kind of volatility may not be seen as viable for the REIT investors that JANA Partners believed would invest in Civeo.
Civeo slashes outlook as customers cut back on spending
Shares dropped at the end of December after Civeo provided a weak 2015 guidance. The company said the outlook "reflects decisions by major oil companies in North America to significantly reduce 2015 capital spending, particularly in Canada, continuing weakness in global commodity markets, and the resulting impact on the company's business in Canada, Australia and the United States."