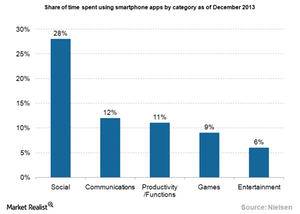 BlackBerry has become a niche smartphone player
By Puneet Sikka

Nov. 20 2020, Updated 1:52 p.m. ET
BlackBerry focused too much on productivity functions on its smartphones
Until a few years back, BlackBerry (BBRY) was a major player in the smartphone market. Enterprises used to love the ease of use that BlackBerry's smartphones provided, especially for drafting emails and taking calls. However, after the arrival of Apple's (AAPL) iPhone and smartphones based on Google's (GOOG)(GOOGL) Android operating system, BlackBerry has been reduced to a niche smartphone player.
Its recently released smartphones—the Passport and Classic—were introduced specifically with enterprises in mind. BlackBerry has now accepted that it can no longer compete in the consumer smartphone space. The problem with BlackBerry in the retail smartphone market was that it focused too much on productivity functions and ignored other important aspects—entertainment, gaming, and social applications.
Article continues below advertisement
People's interest in social apps has gone up
According to a report from Nielsen and as the chart above shows, people spent 28% of their time on smartphone apps using social apps. Only 11% of this time was spent on productivity- or functions-related apps. This is why companies like Facebook (FB) have been growing their revenues from mobile devices rapidly. Read Why mobile platforms are an important revenue driver for Facebook for more details.
More interest in entertainment and social apps on smartphones and a lack of interest in productivity apps have been an issue for BlackBerry. Rivals Samsung and Apple have now gone too far ahead of BlackBerry in the consumer space, so it had to concede defeat.