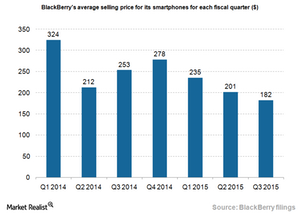 BlackBerry's average selling price should increase in Q4
BlackBerry smartphones' average selling price continues to decline
The average selling price (or ASP) for BlackBerry's (BBRY) smartphones continues to decline. Last quarter, the ASP declined from $201 in fiscal 2Q15 to $182. The ASP declines from the corresponding quarter last year have been even more dramatic. As the chart below shows, the ASP declined from $253 in 3Q14 to $182 in 3Q15—a decline of about 28%.
In fiscal 2Q15, the reason for the decline in the ASP was the success of the low-priced Z3 smartphone in emerging markets. Market Realist discussed this in an article titled Key strategy: Why BlackBerry's average selling price keeps dropping. We saw that except for Apple (AAPL), every mobile player resorted to price cuts in order to succeed in emerging markets.
Article continues below advertisement
Article continues below advertisement
A few months ago, Google (GOOG)(GOOGL) partnered with India's local mobile players—Micromax, Karbonn, and Spice—to launch a $100 smartphone in India. By launching cheaper phones, Google is looking to expand Android One's reach in emerging markets. Even Microsoft (MSFT) came out with a cheaper Lumia lineup in emerging markets after it acquired Nokia (NOK) last year.
BlackBerry focused on clearing old inventory in fiscal Q3
However, the reason for the ASP decline in 3Q15 was different. BlackBerry focused on cleaning out its old inventory in the last quarter, so it had to offer huge discounts to customers. During the earnings call, management mentioned that the old device inventory is down 93% year-over-year, so the company is left with very few devices.
Another issue for BlackBerry in the last quarter was that the company recognized very little revenue for its Passport smartphone. We discussed this in Part 3 of this series. Although you can buy the Passport for $200 with a two-year contract with AT&T (T), its retail price without a contract is $650.
This shows that although the Passport couldn't help BlackBerry boost its ASP last quarter, it should do so next quarter, when the company will start recognizing its revenues. In addition to the Passport, BlackBerry also launched the Classic this quarter. It should also help BlackBerry boost its ASP. The Classic's retail price is $420—much higher than BlackBerry's current ASP of $180.