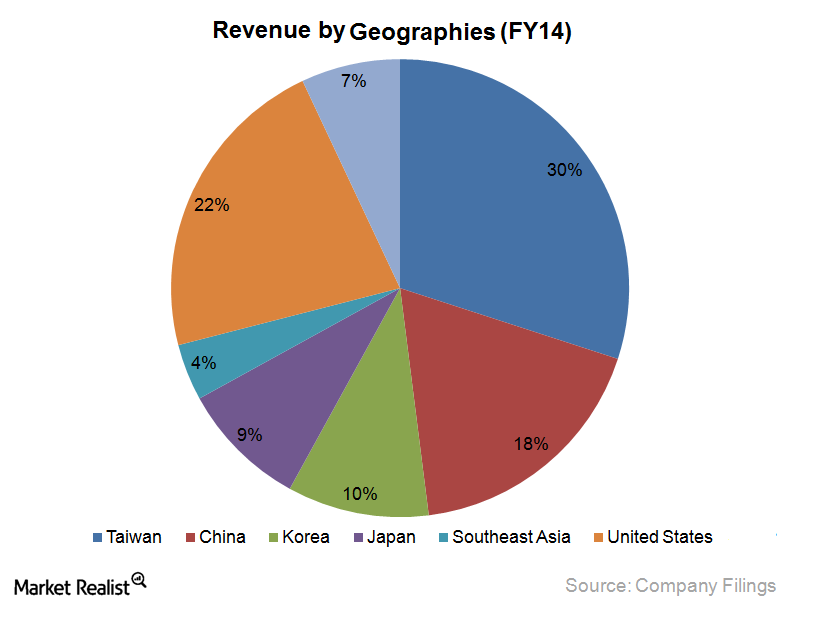 Applied Materials's position in the semiconductor space
Core customers and demand scenario
As noted in earlier in this series, Applied Materials (AMAT) serves leading companies that contribute significantly towards its overall orders and revenues. These firms include Samsung (SSNLF), Intel (INTC), and Taiwan Semiconductor Manufacturing (TSM). In spite of these customers' announcements of their year-over-year chip capital expenditures to remain constant from 2013 to 2014, AMAT has been able to increase revenue by 19% on a quarter-over-quarter basis in 2014. This growth was primarily due to growth in orders from its smaller customers.
In addition to growing revenue from orders, Applied Materials's order backlog increased approximately 23% in 2014, growing to $2.92 billion as compared to $2.3 billion in 2013. This ensures visibility into revenue generation for the next year.
Article continues below advertisement
Geographical risk
Owing to the huge investments involved, companies like Apple (AAPL) have opted to become "fabless," suggesting that they outsource the production of chips to a different company. Taiwan Semiconductor creates chips for an array of companies, including Apple. Instead of selling these components to Apple, Applied Material will need to sell them to Taiwan Semiconductor.
AMAT earns approximately 30% of its revenue from Taiwan, a share that has consistently risen in recent years. The above chart shows the revenue earned from various geographical segments. Owing to the political and natural risks involved when a significant share of revenue comes from one country, it exposes the company to geopolitical risk. Any instability in Taiwan is likely to have a significantly adverse impact on AMAT's business and consequently its share price.
Diversified product lines
Applied Materials generates its revenues from four diverse operating segments that not only provide the manufacturers' equipment, but also works to improve the efficiency of the fabrication process. The chip and flat panel markets expanded their horizons to include other appliances like smart TVs, cars, microwaves, and refrigerators. As the chip industry matures, AMAT is expected to develop more complex equipment to meet the requirements of an expanding chip market.