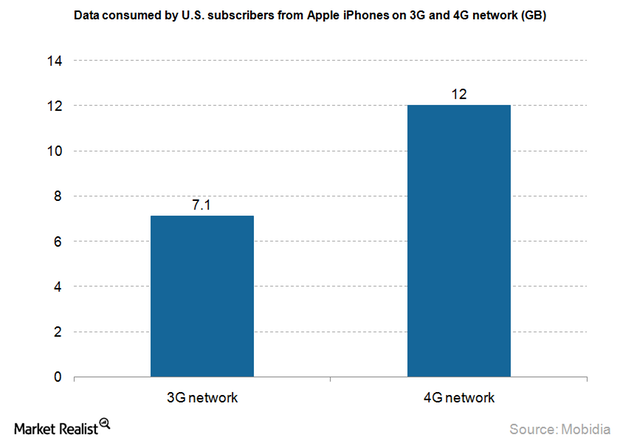 Users consume more data on Verizon and Sprint networks
Users consume more data on 4G network than on 3G network
In Part 5 of this series, we discussed how the major US telecom providers are on the verge of completing the rollout of high-speed 4G LTE networks. Users tend to use more data, especially video data, if they are associated with a high-speed network.
According to a report from Mobidia, US LTE subscribers consumed almost twice as much cellular data as 3G subscribers in 3Q14. More specifically, US LTE subscribers with Apple Inc. (AAPL) iPhones consumed an average of 12 gigabytes of total data—about double the data used on 3G networks, as the chart below shows.
Article continues below advertisement
Article continues below advertisement
Verizon and Sprint users on LTE network consume more data
The same report notes that Verizon Communications Inc. (VZ) and Sprint Corporation (S) subscribers consume more data than subscribers on AT&T, Inc. (T) and T-Mobile US, Inc. (TMUS) LTE networks. This could be because Verizon has the most superior 4G LTE network, something we discussed in Part 5 of this series. The LTE data usage on Sprint could be higher because of its unlimited plans offered at cheaper prices than T-Mobile. For more on this topic, read Why Apple's iPhone 6 could instill life into Sprint.
The Mobidia report also raises another interesting point about data use on Wi-Fi versus cellular networks. On average, US subscribers used 1.8 GB of cellular data every month in Q3 2014. Meanwhile, on Wi-Fi, subscribers consumed 6.8 GB of data using Android phones and 8.9 GB of data using Apple iPhones. This shows that people still consume more data via Wi-Fi because it's much cheaper than cellular data plans.