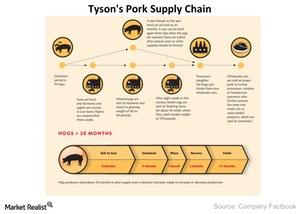 Tyson Foods Pork Biz In The Top Three
<p>The Tyson Foods Pork segment processes live hogs into primal, sub-primal cuts, case-ready pork ready to be sold at retail stores, and fully cooked products.</p>
Tyson Foods Pork segment
Tyson Foods, Inc.'s (TSN) Pork segment generated the company's third-largest share of revenues in 2013—$5 billion. This segment involves live hog processing and carcass fabrication.
The Tyson Foods Pork segment processes live hogs into primal, sub-primal cuts, case-ready pork ready to be sold at retail stores, and fully cooked pork products. This process is known as the fabrication of dressed pork, just as we saw in the Beef segment. "Dressed" means cattle butchered and removed of all parts that are not consumed by people.
Tyson also produces by-product hides and meat, which are sold for further processing
Article continues below advertisement
Article continues below advertisement
Production process
Pork production is a four-stage, 20-month process. It begins with farrowing, or, creating a litter of pigs. Each farrowing produces an average litter of ten pigs. After three or four weeks, when the pig weighs between 10 and 15 pounds, it's weaned from mother's milk and starts on an adult diet.
In the second stage, the pig is transferred to a nursery where it's fed until it weighs 270 pounds. In the third stage, the pig is sold to a finishing farm where the producers sell the live pig or the pig carcass to a processor such as Tyson. Finally, Tyson fabricates the slaughtered pig or adds value by making case-ready pork—that is, cuts and casing that can go directly to retail—or by fully cooking pork products to be sold to customers.
This segment isn't vertically integrated. Live hogs are the major input in the pork business and the company procures its live hogs from trained buyers.
Top pork packers
According to Daily Livestock Report, Smithfield Food was the top pork packer in 2012, followed by Tyson Foods (TSN), Swift, Cargill, and Hormel Foods Corp. (HRL).
To invest in several meat packers you might consider the Consumer Staples Select Sector SPDR Fund (XLP). This ETF also holds big retailers such as Wal-Mart Stores, Inc. (WMT) and Costco Wholesale Corp. (COST), the retailers that sell the meat packers' products.
In the next part of this series, we'll look at Tyson's Prepared Food segment.