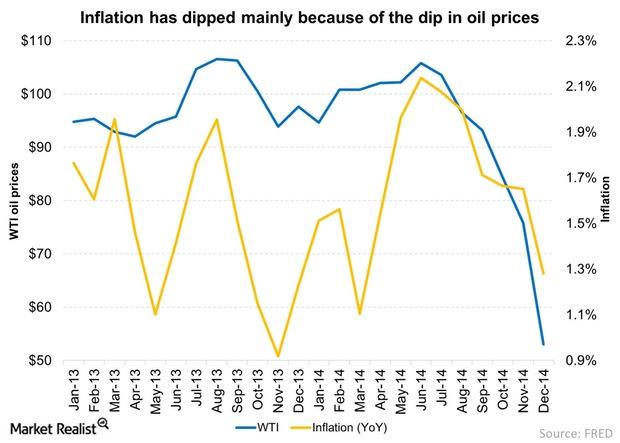 The Tails Of The Yield Curve May Provide Value
2.    The tails of the yield curve may provide more value.
While the name of the game in 2013 was shorter duration, investors should be well suited to take a more nuanced approach to interest rate management now. Very short maturity bonds (SHY) may be less impacted by Fed policy in the near term, as it appears that we are still some ways off from the Fed actually raising interest rates. Additionally, longer maturity bonds have actually done fairly well in 2014 and we expect will still offer some value going forward as they tend to be more impacted by changes in economic growth and inflation, neither of which appears ready to spike in the near term.
Article continues below advertisement
Market Realist – The tails of the yield curve may provide more value due to low inflation
The graph above shows WTI (West Texas Intermediate) crude prices, along with inflation based on the CPI (consumer price index). WTI is a benchmark in crude oil (USO) pricing. WTI had hit $107 per barrel in June. However, it has slipped drastically since then and is now trading at almost half that value, close to $53 per barrel. The main reason for the recent dip in inflation indicated by the chart is crude oil's recent slump. It's important, as it affects other items in the CPI by bringing transportation prices down.
Inflation will probably not be a problem for several months. This is a major positive for long-dated Treasury bonds (TLT). Long-dated Treasuries are the most sensitive to interest rates and inflation. This is because their duration is high.
On a separate note, the dip in oil prices is like a tax cut. You end up paying fewer dollars per gallon of gasoline. This means you have more money to spend on other things. This is a positive for consumer-related sectors like consumer discretionary (XLY) and retail (XRT).
Read our series What's The Most Likely Timeframe For Rate Hikes? to learn more.