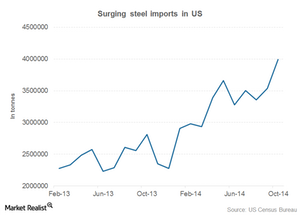 Steel Imports Reach Record Levels In October
Steel imports in October
Steel imports are probably the biggest risk facing the US steel industry. During the 3Q earnings conference call, Steel Dynamics, Inc. (STLD) highlighted this as the single biggest risk for its business. The same view is shared by management at ArcelorMittal SA (MT), AK Steel Holding Corporation (AKS), and Nucor Corporation (NUE).
In fact, United States Steel Corporation (X) has hired professional help to file trade cases against steel imports. Other steel companies generally use the services of third-party attorneys to file such trade cases.
Currently, United States Steel is a top holding of the SPDR S&P Metals and Mining ETF (XME).
The number of trade cases filed by US steel companies is at a record high. The Department of Commerce, or DOC, has made certain positive decisions in these cases. For example, the DOC imposed an anti-dumping duty on tubular product imports from nine nations.
Article continues below advertisement
Treaty with Russia scrapped
The US also scrapped a 15-year old treaty with Russia. This deal exempted Russian hot rolled coil imports from anti-dumping duties. Yet steel imports from Russia have been steadily increasing. According to estimates, hot rolled coil imports from Russia have increased by almost 25 times in the first nine months of this year.
And still, steel imports continue to rise.
Steel imports reach record high
Steel imports in US reached a record high of ~4 million tonnes in October, as you can see in the above chart. Compared to the first ten months of last year, steel imports are up by more than 35%. This is an alarming situation. Basically, it means the benefit of strong steel demand in the US is being enjoyed by foreign steel companies.
One of the reasons for rising steel imports in the US has been the surge in Chinese steel exports. We'll analyze this in the next part of this series.