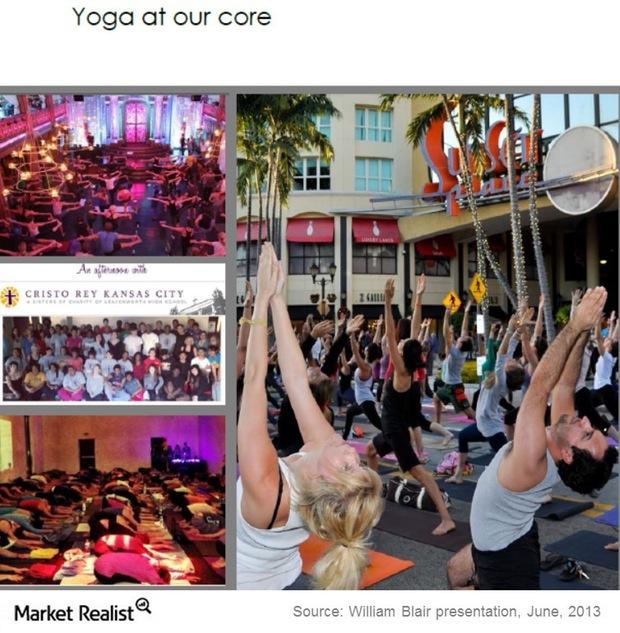 Overview: Lululemon's Target Market And Product Assortment
Lululemon's clientele and product portfolio
Lululemon Athletica (LULU) specializes in performance apparel for women, men, and female youth. The clothes are meant for healthy lifestyle activities, primarily for yoga. Major product lines include fitness pants, shorts, tops and jackets. It also has a range of fitness-related accessories like bags, socks, and yoga mats.
Article continues below advertisement
Article continues below advertisement
Consumer discretionary sector
The company's products are categorized as consumer discretionary, which means people tend to spend more on these items when income levels are healthy and the economy is growing. The SPDR Consumer Discretionary Select Sector ETF (XLY) provides exposure to the sector. It includes holdings in companies like The Gap (GPS), NIKE (NKE), and Under Armour (UA)—some of LULU's main competitors in the space. It also provides exposure to other specialty apparel retailers like L Brands (LB) and TJX Companies (TJX).
Product design is a competitive strategy
Product design and development, using innovation and feedback from customers, is a key company strategy. Products are designed by a team of designers based in Vancouver. LULU has developed innovative fabrics like Luon and Silverscent in collaboration with certain apparel manufacturers. The company is also in the process of developing fabrics that include features like UV protection and inherent reflexivity.
New products turn around inventory faster and precipitate a dip into fall lines
The market for apparel has many players and is also highly competitive. It's important for the company to correctly identify product trends and fashions. Product offering is seasonal. Correct anticipation of demand volumes and trends are critical to sales. For example, in 2Q15, the company's breathable mesh pants sold out much faster than anticipated, as the design proved popular.
LULU also launched a new transitional line between the summer and fall seasons in 2014. It went over very well with customers, creating revenue upside in 2Q15. The company attributes the line's success to new, beautiful, and greatly technical products.
The next article in this series covers Lululemon's initiatives to reinvigorate its product assortment in the upcoming quarters.