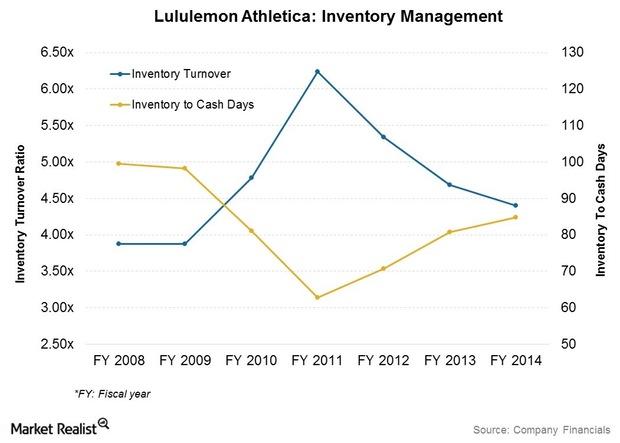 Lululemon's Retail Inventory Management Strategies Are Crucial
Why inventory levels are crucial in the retail industry
Ensuring an optimal level of products in stock is critical for companies. Too little stock or inventories, and the firm might find itself short when it comes to meeting product demand. Too much, and the company might be overstocked and forced to offer greater discounts and marked-down products to ensure sales.
It's especially crucial for apparel firms like Lululemon Athletica (LULU) and retailers (XRT) like Fossil (FOSL), Abercrombie & Fitch (ANF), and Urban Outfitters (URBN), since fashions change due to seasons. Older stock may often be sold at significant mark-downs, resulting in lower revenues. Too many discounted sales also result in dilution of the firm's brand value. So forecasting demand accurately and maintaining adequate inventory levels are critical.
Article continues below advertisement
Lululemon strategizes
The company has a relatively high inventory turnover ratio compared to rival firms. This implies that either the stock sells out really fast in its stores or the inventory levels are kept low deliberately. This is a key strategy employed by LULU. Scarcity of product not only generates brand value, but it also encourages eagerness among customers for the next release of apparel lines.
Recent inventory management initiatives
Since the product recall last year, the company has installed a new backroom app, allowing customers to view the company's entire inventories online through an iPod device. The incremental sales generated by the new app is estimated at ~1% of retail sales in 2Q15.
Also, its transitional line, launched in July, was very well received by consumers, forcing the company to bring forward inventory that was originally meant for satisfying August's demand. The higher-than-anticipated demand affected inventory levels and sales in August to the benefit of July sales. The success also meant that August's inventory levels were less than optimal.
Go-to-market calendar
LULU has also hired consultants to advise it on its go-to-market calendar. The company anticipates re-sequencing certain processes by bringing them forward, resulting in products reaching markets faster. These changes should lower future inventory levels and probably result in higher inventory turnover and lower inventory-to-cash days.