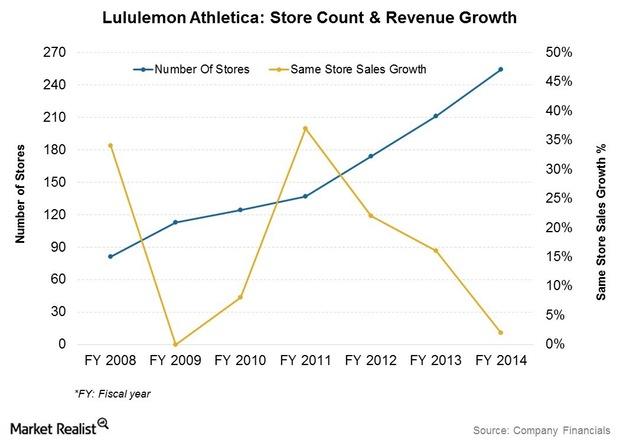 Why Lululemon Is Looking At A Global Store Footprint
Lululemon's stores, sales, and same-store sales growth
Lululemon Athletica's (LULU) retail strategies are crucial for its survival as a leading sportswear brand. Unlike competitors NIKE (NKE), VF Corporation (VFC), and Under Armour (UA), LULU derives most of its revenues from the retail channel—~77.2% or $1.2 billion in fiscal 2014. NKE, VFC, and UA are part of the iShares Core S&P 500 ETF (IVV).
Article continues below advertisement
Article continues below advertisement
Store count and retail strategies
LULU's global store count was estimated at 289 at the end of 3Q15. Stores are company-owned, with most located in the US (201) and Canada (57). LULU's Ivivva stores, which cater to female youth, are included in the store count.
The company locates store sites at street locations, lifestyle centers, and malls. This ensures that the stores are in the public eye and appear as an integral part of the community, which is essential to the image LULU is projecting. Stores also provide educational resources to customers (or "guests," as the company terms them) and encourage trials and repeat visits.
Store profitability
Each store averages ~2,872 square feet in size. Average sales per stores in operation for a year or more came in at ~$1,894 per square foot in the fiscal year ending February 2, 2014. This was down slightly from $2,058 per square foot in fiscal 2013. A product recall in fiscal 2014 affected same-store sales, which grew just 2% in the year compared to 16% in fiscal 2013.
Expansion plans
The Canada-based LULU has been aggressively ramping up its retail footprint, particularly in its largest market, North America. LULU plans to further expand in the larger US market.
This year, LULU opened its first store in Europe, located in London. Heartened by the response, the company is opening a second store in January 2015, also in London. It's also looking at a higher rate of rollouts in Europe and Asia over the next three years. LULU's targeting ~20 stores each in both geographies by 2017. Expansion plans in 2015 include store openings in Hong Kong and the Middle East.