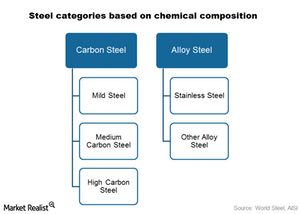 Key Facts Investors Need To Know About Steel
Steel types based on chemical composition
Steel can be classified into several categories. Let's look at the various types of steel products based on chemical composition. Types of steel are made by altering the chemical properties of steel. Let's learn more.
Article continues below advertisement
Article continues below advertisement
Carbon steel
Carbon steel is the most widely used steel product. The strength of steel can be increased by adding carbon to it. Carbon steel products can be further classified into the following three distinct types based on percentage of carbon content:
Low carbon steel (or mild steel)
Medium carbon steel
High carbon steel
Alloy steel
Along with carbon, other elements are often mixed with steel. This changes the chemical composition of steel. The above chart shows the various steel types based on chemical combinations. Alloy steel products have customized properties depending on the end usage. They are widely used in making auto parts. High temperature inside automobile engines means that normal steel products cannot be used there.
Similarly, there are various applications where better strength, corrosion resistance, and ductility are required. By adding various elements to steel, these custom requirements can be met.
Article continues below advertisement
These alloy steels are an example of value added steel products. These products sell at higher prices and thus increase the profit margins of steel companies. Steel Dynamics (STLD) gets a large portion of its revenues from value added products. Currently, Steel Dyamics is a top holding of the Standard & Poors depositary receipt (or SPDR) S&P Metals and Mining exchange-traded fund (or ETF) (XME).
U.S. Steel Corporation (X) produces value added products for the energy industry. ArcelorMittal (MT) produces high-strength steel to supply to automotive companies.
Stainless steel
The most commonly used alloy steel, which we commonly use in our daily lives, is stainless steel. Steel is mixed with chromium and nickel to produce stainless steel. It is used in applications where corrosion resistance is required.
Apparently, AK Steel (AKS) has developed a new stainless steel product that is nickel-free. This product is expected to benefit AK Steel.