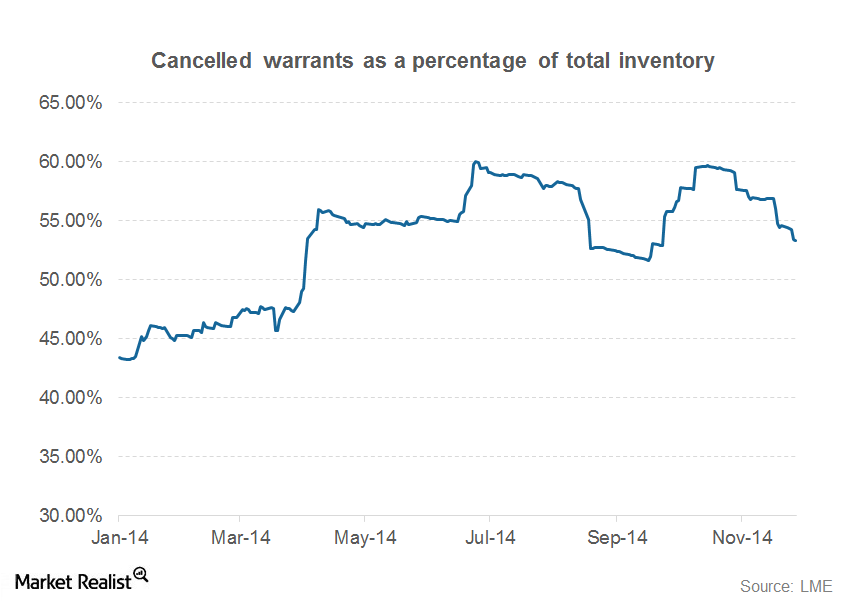 What Investors Need to Know About Aluminum Warrants
Inventories are divided into warrants and cancelled warrants
In the previous part, we discussed the trends in aluminum inventories at the London Metal Exchange's (or LME) registered warehouses. These inventories can be divided into two parts: warrants and cancelled warrants. Let's learn what these terms mean.
Article continues below advertisement
Article continues below advertisement
What are aluminum warrants?
Aluminum warrants are like a bearer document. Holders of aluminum warrants can take delivery of aluminum from a designated warehouse. All metal that enters the warehouses is on warrant.
The warrants are cancelled when the bearer of the warrants requests physical delivery. These warrants are then no longer available for trading. It's important to note that inventory levels in warehouses are not affected by cancelled warrants. The inventory levels are affected only by physical movement of the metal. The previous chart shows the trend in cancelled warrants in 2014. As you can see, cancelled warrants as a percentage of total inventory increased this year.
Why investors should watch this metric
Cancelled aluminum warrants mean they have been booked for delivery. This should lead to higher aluminum supply. But interestingly, aluminum supply is still tight. Analysts expect that most of the metal has been moving away from LME registered warehouses to non-LME registered warehouses.
This basically means that instead of going to the end consumer, aluminum enters another warehouse. Non-LME registered warehouses typically charge less rent than registered warehouses.
This has created artificial shortages of aluminum in the market. This results in higher premiums. As discussed earlier, primary producers such as BHP Billiton (BHP), Rio Tinto (RIO), Alcoa (AA), and Century Aluminum (CENX) benefit from higher premiums. Some of these companies are part of the Standard and Poors depositary receipt (or SPDR) S&P Metals and Mining exchange-traded fund (or ETF) (XME).