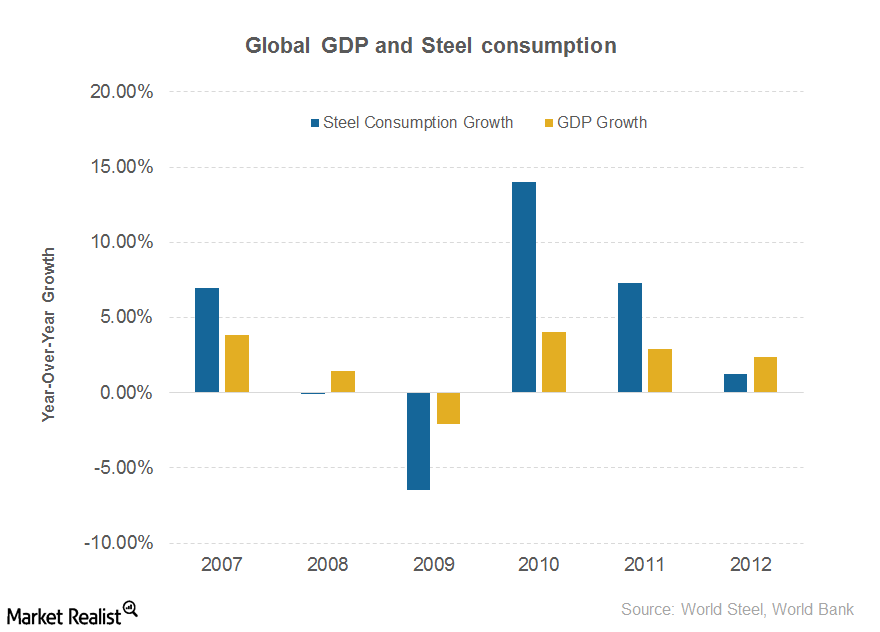 How Investors Can Play The Steel Industry
Understanding the importance of steel
Steel is vital for any economy. In a lot of ways, steel consumption in an economy is a reflection of its health. It should not be a surprise that steel consumption fell by as much as 50% in some countries during the recession of 2008. We use steel in our daily lives. Its importance can be described in the following simple quote from the World Steel Association: "Steel everywhere in our lives."
Article continues below advertisement
Article continues below advertisement
What will we cover in this series?
Steel is a cyclical industry and is dependent on the growth in economic activity. This can be verified from the above chart. Be sure to read a complete overview of the steel industry.
In this series, we'll learn key facts related to the steel industry. We'll learn more about how investors can play the steel industry. Let's first look at the various means through which the steel industry can be played.
Steel producers. The steel industry can be accessed through steel producers such as ArcelorMittal (MT), U.S. Steel Corporation (X), AK Steel (AKS), Steel Dynamics (STLD), and Nucor (NUE).
Metal service centers. Metal service centers act as distributors for steel companies. These companies don't produce steel but procure it from steel producers. They then supply steel to end consumers. Service centers can provide custom shapes and sizes in smaller lot sizes, which steel producers cannot. Reliance Steel & Aluminum (RS) is the largest metal service center in North America.
ETFs. Retail investors can also get a diversified exposure to the metals industry through exchange-traded funds (or ETFs). Standard & Poors depositary receipt (or SPDR) S&P Metals and Mining ETF (XME) can give you a diversified exposure to the metals and mining industry.
In the next part of this series, we'll look at the various types of steel.