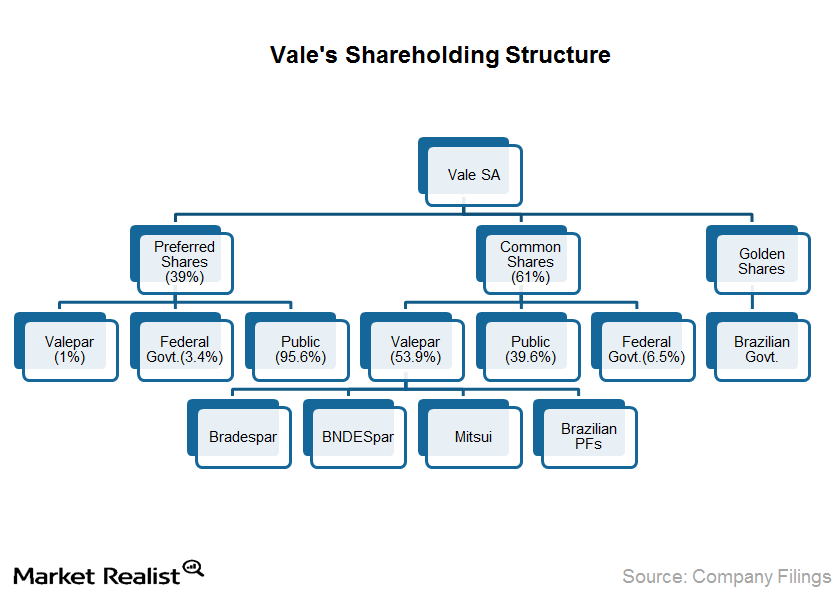 The implications of the Vale SA ownership structure
<p>Although there hasn&#8217;t been any recent cause for concern, and the government doesn&#8217;t interfere in the day-to-day workings of Vale, there&#8217;s always a risk that the company could be pushed into pursuing objectives that aren&#8217;t in the best interests of all shareholders.</p>
Ownership structure
Vale SA's (VALE) ownership structure is a bit unusual for a public company. A holding company called Valepar owns 53.9% of its shares, and the Brazilian government directly owns 6.5% of its shares. Brazil's national development bank, BNDES, owns a stake in Valepar, as so do many Brazilian pension funds, which are widely perceived as being heavily influenced, if not controlled, by the Brazilian government.
Article continues below advertisement
Article continues below advertisement
Government influence
Vale's previous chief executive officer, Roger Agnelli, was ousted in March 2011 as a result of state pressure. There were many points of contention between him and the Brazilian government. The government wanted Vale to invest more domestically in steel, shipbuilding, and the fertilizer industries instead of focusing entirely on supplying iron ore and other materials to China. Layoffs and investment cutbacks made by Vale in the wake of the 2008 financial crisis were other points of contention.
The government used its golden shares provision to push Agnelli out and replace him.
Golden shares
Aside from its direct ownership and indirect holdings through BNDES and the pension funds of state-owned banks, the Brazilian government also owns 12 golden shares in Vale. These give the government veto powers over certain decisions like changing the company headquarters or its corporate direction.
Such influence has been detrimental to Vale's investment case in the past. Although there hasn't been any recent cause for concern, and the government doesn't interfere in the day-to-day workings of Vale, there's always a risk that the company could be pushed into pursuing objectives that aren't in the best interests of all shareholders.
Vale's rivals in the iron ore business, including BHP Billiton Ltd. (BHP), Rio Tinto plc (RIO), and Cliffs Natural Resources Inc. (CLF), are free from such government interference. Cliffs, however, recently faced an activist issue that resulted in a change in management. For more on this topic, read Why Cliffs Natural Resources changed its management.
The SPDR S&P Metals and Mining ETF (XME) invests in the above-mentioned stocks.