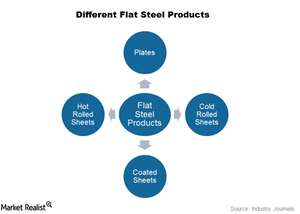 Why Flat Steel Products Are Important For Steel Companies
Flat steel products
In the previous part of this series, we looked at the long products. Let's now learn more about flat steel products. Flat steel products consist of sheets and plates. They are rolled from slabs, which are a semifinished steel product. These products are used in a wide range of industries such as automobile, domestic appliances, shipbuilding, and construction. Let's now see how flat products are further segregated.
Article continues below advertisement
Article continues below advertisement
Hot rolled sheets are used in automobiles, construction, agricultural equipment, and machinery. We'll discuss these products in greater detail in our next part.
Cold rolled sheets are used to make domestic appliances and other products that require precision. The above chart shows the various flat steel products.
Coated sheets are a subcategory of cold rolled steel. Coated sheets are coated with aluminum and zinc. This enhances the anticorrosion properties of steel. As discussed previously, since steel is highly corrosive, it is mixed with other elements to enhance its quality.
Plates are generally made to specific customer specifications. They are used in construction, shipbuilding, and industrial machinery.
Steel companies such as U.S. Steel Corporation (X), ArcelorMittal (MT), Nucor (NUE), and AK Steel (AKS) produce flat rolled steel products. Some of these companies are part of the Standard & Poors depositary receipt (or SPDR) S&P Metals and Mining exchange-traded fund (or ETF) (XME).
We've seen that cold rolled steel is a more refined version of steel. The difference in hot and cold rolled steel comes from their production techniques. In the next part of the series, we'll discuss the key differences between hot and cold rolled steel.