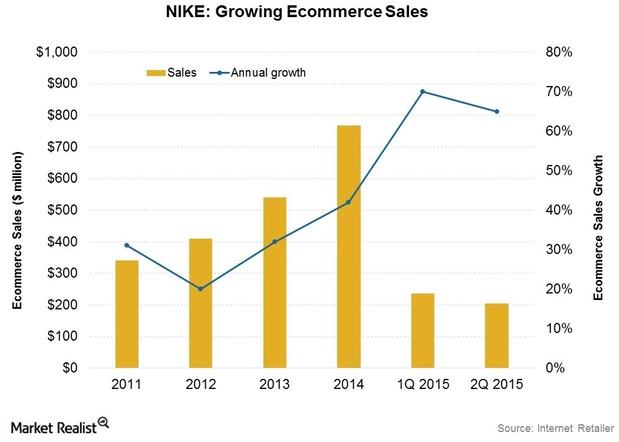 E-commerce: A Critical Growth Driver At NIKE
The impact of NIKE's e-commerce presence
NIKE (NKE) was one of the first sportswear companies to offer online sales. It's also invested considerably in creating a premium and seamless digital experience.
E-commerce sales make up about 15% of NIKE's direct-to-consumer, or DTC, sales. E-commerce sales grew 65% in 2Q15 to ~$205 million,[1. Internet Retailer] much higher than industry growth rates. In contrast, online sales at competitor Under Armour (UA) grew by 19.4% in 2Q14, and rival Lululemon Athletica (LULU) saw 27% online sales growth in 3Q15.
Article continues below advertisement
Article continues below advertisement
E-commerce initiatives
Providing product customization is a major enhancement at www.NIKE.com. Better mobile sites, monitored customer interaction, and a seamless card experience are some of the other advantages in which the company is investing heavily. It's also actively rolling out websites in other markets, which will be critical growth drivers in future years.
Future growth
"Ecommerce is without a doubt one of our biggest and most important growth opportunities and will be for years to come," said CEO, Mark Parker speaking at the Q2 conference call. "With opportunity for even more innovation, and expansion into new markets, this really is just the beginning of what's possible for Nike.com," he said.
The company plans to grow DTC revenues to $8 billion by fiscal 2017, including e-commerce revenues of $2 billion. That's an annual growth rate above 37% compounded between 2014 and 2017. In contrast, VF Corporation (VFC), which owns footwear brands such as Timberland, is projecting annual growth of ~25% through 2017 through its DTC and online channels.[1. Internet Retailer]