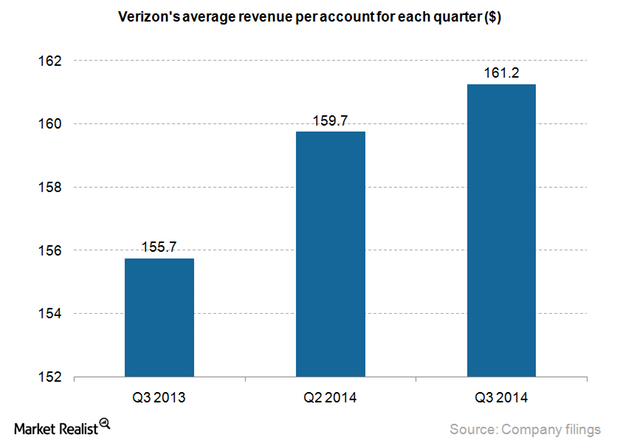 What's driving Verizon's increase in average revenue per account?
Verizon's increase in ARPA 
Verizon Communications Inc. (VZ) defines a retail postpaid account as a contract between retail customers and itself. Retail connections under an account include basic phones, smartphones, and tablets. Average revenue per account (or ARPA) is an important metric for Verizon. ARPA gives an idea of how well it's able to monetize its users' accounts. The good part is that Verizon is able to increase this metric on a consistent basis.
As the following chart shows, Verizon's ARPA increased from $155.70 in 3Q13 to $161.20 in 3Q14.
Article continues below advertisement
According to Verizon, the increase in ARPA was driven by an increase in smartphone penetration and retail postpaid connections per account. As of 3Q14, smartphones represented 77% of Verizon's retail postpaid phone base. This penetration increased from 67% in 3Q13. Smartphone users tend to consume more data than basic phone users. This is why we are seeing an increase in ARPA.
Another reason why ARPA increased was a 3.7% year-over-year (or YoY) increase in retail postpaid connections per account. This increase was mainly driven by new tablet activations. In the last quarter, Verizon added one million net tablet subscribers. It only added 457,000 net postpaid phone subscribers.
AT&T and T-Mobile successfully monetize their users
We can see a similar trend of successful user monetization with other telecom companies. For example, AT&T expected its average revenue per user to increase in the third quarter. This is exactly what happened. AT&T's (T) postpaid phone-only average revenue per user (or ARPU) plus Next billings increased by 2% in the last quarter sequentially. The concept of Next billings came up because of the delay in revenue recognition for customers under the Next plan. We discussed this aspect in the Market Realist article Must-know: Why did AT&T's service revenue decline last quarter?.
Similarly, T-Mobile (TMUS) managed to increase its branded postpaid average billing per user (or ABPU) by 4.2% YoY.
However, Sprint (S) was the only major telecom company that had an decline in ARPU. Sprint started to aggressively undercut its competitors in order to gain subscribers. For example, it started to offer the unlimited plan for Apple's (AAPL) iPhone 6 for $50 per month. We discussed this aspect in Why Sprint keeps introducing attractive plans to create value.