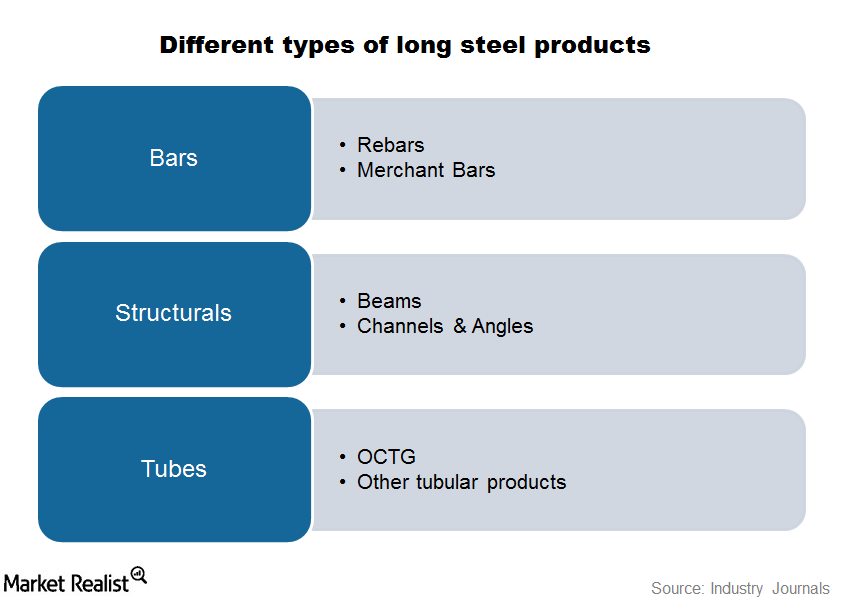 Different Steel Types Have Distinct End Use
Steel shapes are based on demand
Steel producers manufacture steel in several shapes according to demand from end consumers. Based on shape, steel products are widely grouped into two categories: long products and flat products. Let's discuss these types in detail.
Article continues below advertisement
Long products
Steel products known as "longs" include bars, tubes, structural sections, and wire products. The above chart shows the various types of long steel products. Each of these products has a distinct end use.
Bars are generally divided into merchant bars and reinforcing bars (or rebars). Merchant bars are commonly used to manufacture fabricated products such as furniture. Rebars, on the other hand, are used to strengthen concrete in bridges, highways, and buildings. Rebars are used in the nonresidential construction industry. Please be aware that Nucor (NUE) is the largest supplier of steel products to the U.S. nonresidential construction industry. Currently, Nucor is a top holding of the Standard & Poors depositary receipt (or SPDR) S&P Metals and Mining exchange-traded fund (or ETF) (XME).
Tubular products are generally used for transportation of fluids. Another subcategory of tubular products is oil country tubular goods (or OCTG). The energy industry uses these products. The demand for OCTG in U.S. markets has been strong, backed by a booming oil and gas industry. U.S. Steel Corporation (X) is the largest supplier of OCTG in North American markets. This segment was reeling under the impact of imports. In August this year, the International Trade Commission (or ITC) ratified an antidumping duty on imports of OCTG products from nine countries.
Structural products are mainly used in the construction industry. Beams, channels, and angles are common structural products.
Please be aware that rising imports are the biggest challenge for the U.S. steel industry. Steel companies such as AK Steel (AKS) and ArcelorMittal (MT) routinely file trade cases against these imports.
Flat products are another key segment for steel companies. We'll analyze the importance of flat products for steel companies in our next part.