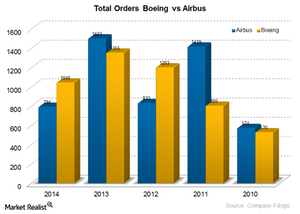 Boeing's global competitors
Boeing versus Airbus
Boeing (BA) and Airbus (EADSY) have been arch rivals in the commercial jetliner segment since the 1990s. Both of these companies have a wide product range covering a variety of capacity combinations, but they rarely compete head-to-head.
In 2013, Airbus led the competition partially with a market share of 53%, while Boeing had the remaining 47%. From time to time, these two companies accuse each other of getting subsidiaries from their respective governments.
Article continues below advertisement
Article continues below advertisement
Embraer's entry into the smaller jets segment
While Boeing and Airbus compete fiercely in the larger planes segment, Embraer (ERJ) sees an opportunity to make its way into the narrow-bodied airliner market. Embraer has emerged as the world's largest manufacturer of commercial jets with up to 130 seats. The company's success comes from its focus on incorporating large jet features—like range, speed, technology, comfort, and reliability—into smaller aircraft with lower operating costs.
Bombardier Inc.
Canada-based Bombardier Inc. is one of the new entrants into the aerospace segment. The company competes with Embraer for the position of third-largest airline manufacturer after Boeing and Airbus. Bombardier operates manufacturing, engineering, and production facilities in 27 countries and competes in the 50- to 160-passenger segments of the commercial jets market.
BA faces stiff competition from Airbus in the 160-passenger and above segment. In the smaller jets segment, Boeing's global competitors include Embraer and Bombardier, both of which are vying against the two giants to gain market share.
Boeing closely tracks the performance of the Industrial Select Sector ETF (XLI). This ETF includes Lockheed Martin (LMT), Boeing's strongest competitor in the defense space.
The next article in this series will review how Boeing's stock has performed.