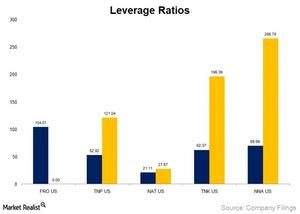 Analysis of Frontline's balance sheet
By Katie Dale

Nov. 27 2019, Updated 7:35 p.m. ET
Frontline's cash and cash equivalents
As of September 30, 2014, Frontline Ltd.'s (FRO) cash and cash equivalents increased to $104.6 million from $79.3 million as of September 30, 2013. Restricted cash narrowed down to $16.1 million from $59.2 million from the year-ago quarter mainly due to the decline of $21 million in restricted cash in Independent Tankers Corporation Limited (ITCL) relating to deconsolidation of the Windsor entities. Restricted cash implies money a company puts aside for a specific purpose that isn't available for immediate and general use by the company.
Article continues below advertisement
Assets and debt
Frontline's vessels and equipment decreased by $211.9 million mainly as the consequence of the separation of the Windsor vessels, the transfer of Ulriken vessels held for sale, and impairment loss relating to Front Comanche, Front Commerce, Front Opalia, and Ulriken. Vessels held for sale stood at $26 million during the third quarter.
Long-term debt decreased by $153 million as a consequence of deconsolidation of Windsor and ordinary repayment of capital leases partly offset by a draw-down of $30 million in the third quarter. Equity decreased to $44.6 million from $123.3 million in the year-ago quarter mainly due to recorded loss in the quarter, which was partly offset by raising new equity.
Leverage ratios
Frontline recorded debt to assets of 104.0. Frontline's peers such as Teekay Tanker Ltd. (TNK), Nordic American Tanker Ltd. (NAT), Tsakos Energy Navigation Ltd. (TNP), and Navios Maritime Acquisition Corporation (NNA) recorded debt to assets of 62.4, 21.1, 52.9, and 69.9, respectively, and a debt-to-equity ratio of 196.4, 27.7, 121.0, and 265.8, respectively. The Guggenheim Shipping exchange-traded fund (or ETF) (SEA) tracks the shipping companies.