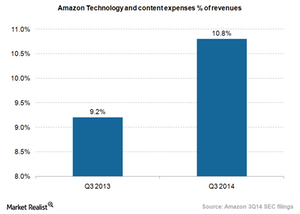 Amazon continues to invest in technology and content
<p>Technology and content costs include expenses incurred on new product development, data centers, and licensing costs associated with music and videos.</p>
Technology and content costs have increased for Amazon
In Part 2 of this series, we discussed why fulfillment costs for Amazon (AMZN) are going up. Along with these fulfillment costs, technology and content expenses are also going up for Amazon. Technology and content costs include expenses incurred on new product development, data centers, and licensing costs associated with music and videos. As the chart below shows, technology and content costs as a percentage of revenues increased from 9.2% in 3Q13 to 10.8% in 3Q14.
Article continues below advertisement
Article continues below advertisement
Amazon spending on technology to support its AWS business
First, let's talk about the company's spending on technology. Amazon has been spending on product development and data centers to support its rapidly growing Amazon Web Services (or AWS) business. AWS is a cloud computing platform. In 2Q14, Amazon revealed that its AWS business grew by 90% in volume compared to the same quarter last year. And during the 3Q14 earnings conference call, management revealed that it experienced about the same growth in that quarter also.
Although Amazon doesn't disclose its AWS revenues separately, its Other business revenues—which mainly consist of revenues from AWS—have consistently increased, from $1.01 billion in 3Q13 to $1.38 billion in 3Q14. This shows growth of 37%. The success of its AWS business has helped Amazon become the world's leading cloud services player.
According to a report from IT Candor, Amazon led the infrastructure-as-a-service (or IaaS) and platform-as-a-service (or PaaS) markets in 2013. IaaS and PaaS are the key segments of the cloud services market. The report also mentioned that Microsoft (MSFT), Google (GOOG)(GOOGL), and IBM (IBM) are the other three players following Amazon in this market. Amazon and Google have been reducing the prices of their cloud services products in order to gain more business. We covered this strategy in Why Amazon's Web Services continue to mean strong growth.
Let's see why Amazon's content cost have increased in the next part of this series.