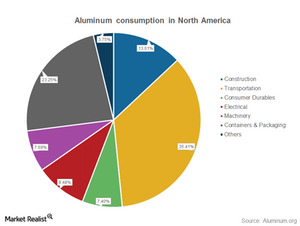 Why Aluminum Is An Important Metal For Investors
Why aluminum is important for investors
After steel, aluminum is the second metal that's used the most. Investors like aluminum. They can play the aluminum industry by trading aluminum on commodity exchanges. Investors can also investment in aluminum plays. Aluminum is the metal that's traded the most on the London Metal Exchange.
Aluminum has low density. It's also resistant to corrosion. Aluminum is a very important metal. It can be used in many industries.
Article continues below advertisement
Article continues below advertisement
What do we cover in this series?
In this series, we'll learn about the aluminum industry's dynamics. We'll analyze the trends in major regions that consume aluminum. We'll also discuss the outlook for aluminum in major end markets.
Using aluminum
Aluminum is widely used in the automotive, construction, and aerospace industries. It's also used to make household appliances and utensils. The previous chart shows the breakup of aluminum consumption in North America. As you can see, the transportation industry consumes the most aluminum. Packaging is second in aluminum consumption.
Aluminum conducts electricity well. As a result, it's also used in electric wires and cables. Aluminum is a key raw material in the aerospace industry. It can form ~75% of aircraft weight.
Major aluminum producers
Alcoa (AA), BHP Billiton (BHP), and Rio Tinto (RIO) are among the top ten aluminum producers globally. Century Aluminum (CENX) is one of the major producers in the US. Currently, it's part of the SPDR S&P Metals and Mining ETF (XME).
Read Why Alcoa is transforming from a pure-play aluminum company to learn more about Alcoa.
In the next part of this series, we'll look at the major regions that produce aluminum.