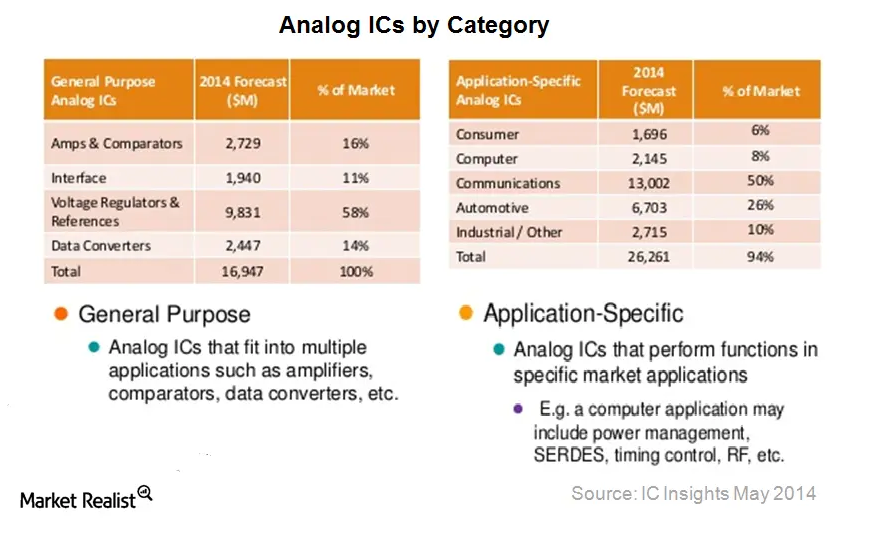 Key strategies applied by Texas Instruments to achieve growth
Smartphone and tablet market exit
Despite the massive growth in the smartphones, tablets, and mobile devices market, Texas Instruments Incorporated (TXN) planned its strategic exit from it back in September 2012. Rather than being a small player fishing for a miniscule share in this highly competitive space—where the likes of Google Inc.'s (GOOGL) Android and Apple Inc.'s (AAPL) iPhones dominate—it instead refocused its energies. And, it dedicated its strategic and research and development, or R&D, investments toward becoming a pure analog and embedded processing company.
Article continues below advertisement
It's worth mentioning that Texas Instruments made the decision to exit the tablet and mobile market despite the success of Amazon.com, Inc.'s (AMZN) Kindle Fire tablets, in which its microprocessors were used. Rather, the chief reason for its exit was the stiff competition posed by players such as Google and Samsung Electronics, Ltd. (SSNLF). These companies are vertically integrated— they design both chips and the mobile devices—which is a competitive edge over other players. There simply isn't much room for players like Texas Instruments to grow in this space.
Strategic shift toward high potential areas
In 3Q14, Texas Instruments derived 82% of its revenue from its analog and embedded processing segments combined. By way of comparison, these segments made up approximately 72% of the company's revenues in 3Q12.
As the above chart shows, the communications, automotive, and industrial sectors represent the main markets for analog chips. It's expected all of these sectors will witness good growth in 2014. Also, as mentioned earlier in this series, the analog and embedded processing segments enjoy lengthier product life cycles and higher margins. In summary, Texas Instruments expects its analog and embedded segments to drive the overall growth of the company.