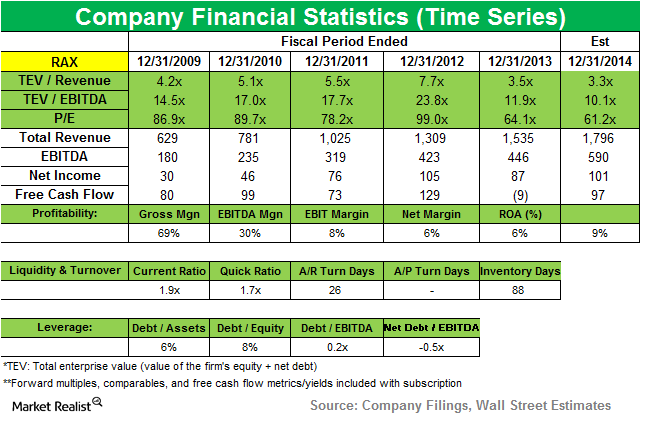 JANA Partners starts a new position in Rackspace Hosting
New Rackspace position for JANA
JANA Partners added a stake in Rackspace Hosting Inc. (RAX) that accounted for 1.18% of the fund's total third-quarter portfolio. Reports citing JANA's investor letter noted that subscriptions from a large and diversified customer base "with high satisfaction scores and low churn rates" significantly contributed to the company's revenues. Rackspace's management change and "focused strategy" are expected to drive increased margins and the return of capital to shareholders.
Article continues below advertisement
Overview of Rackspace Hosting
Rackspace founded OpenStack, the open-source operating system for cloud computing. The company offers the following services:
public cloud
dedicated cloud
private cloud
hybrid cloud
Rackspace is committed to providing open technologies. The company purchases and manages the equipment that is typically required for the delivery of services:
servers
routers
switches
firewalls
cloud load balancers
cabinets
software
wiring
Rackspace is headquartered in Windcrest, Texas. The company operates data centers on four continents.
Rackspace sees activist interest from Blue Harbour
In its August 13D filing, activist investor Blue Harbour Group said it was planning to pursue discussions with Rackspace's board and management to increase shareholder value.
Rackspace has seen investor concerns over increasing competition from various technology companies, including Amazon, Hewlett-Packard, Google, IBM, and Microsoft. These tech companies have made substantial investments in cloud-computing offerings and initiatives. For more on Rackspace's competitors, visit Market Realist's Enterprise Software page.
Article continues below advertisement
Rackspace gives up on efforts to find a buyer
In May, Rackspace announced that it had hired Morgan Stanley "to evaluate some inbound strategic proposals and to explore other alternatives that could advance Rackspace's long-term strategy."
In September—after months of speculation that Rackspace could be acquired by CenturyLink Inc. (CTL) and that Hewlett-Packard (HPQ) had been expressing interest in the managed cloud leader—Rackspace declared its commitment to remaining independent. A release stated, "Based on Rackspace's reaccelerated revenue growth and its potential trajectory for the coming year, the board concluded the company is best positioned to maximize shareholder value by executing its strategy as the #1 managed cloud company."
Company names new CEO
In September, Rackspace announced that president Taylor Rhodes would be the new chief executive officer and member of the board. Rhodes took over from Graham Weston, co-founder and chairman of the board.
Article continues below advertisement
3Q14 revenue and earnings beat estimates
Net revenue for the third quarter of 2014 was $460 million, up 4.2% sequentially and 18.3% year-over-year. Rackspace said it had been seeing increasing demand in the managed cloud market for its services and expertise. The company also stated that services rendered to new and existing customers had been driving revenue growth. Net income was $26 million for the quarter, up 14.6% from the previous quarter. Adjusted EBITDA grew 12% to $159 million.
Board approves $500-million share buyback
After reviewing the company's cash flow profile, growth strategy, capital structure, and capex requirements, Rackspace's board approved a repurchase of up to $500 million in shares over the next two years. The company intends to execute a $200-million accelerated share repurchase as its first initiative under this program.
JANA's other 3Q14 activities
Barry Rosenstein's JANA Partners added new positions in Amgen Inc., Dollar General Corporation, and Valeant Pharmaceuticals. The top increased positions included eBay, PetSmart Inc. (PETM), and Hertz Global Holdings. JANA sold stakes in Mallinckrodt Pharmaceuticals and FMC Corporation (FMC) as well.
The next part of this series will highlight JANA's new position in Valeant Pharmaceuticals.