Operating earnings
In the last part in the series, we discussed trends in National Oilwell Varco's (NOV) revenues. In this part of the series, we'll discuss its income statement. We'll see how it's operating income—the broadest measure of a company's profitability—has been doing over the years.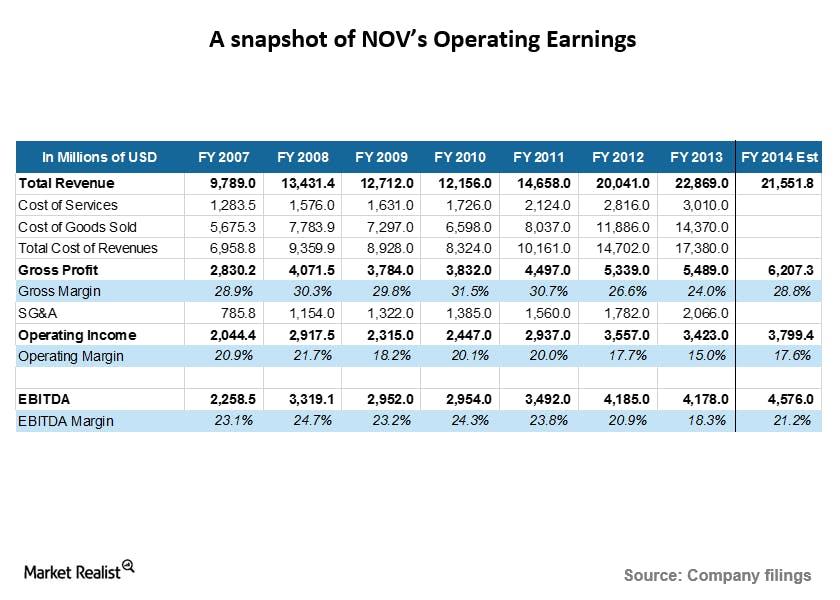 Gross profit
NOV's revenues have been growing as the energy sector boomed. The company expanded and diversified its operations globally.
However, its cost of revenues increased faster. The cost of revenues includes the cost of manufacturing equipment sold and services provided.
This caused NOV's gross profit margin to take a hit in the last few years. The gross profit margin is the revenues minus the cost of revenues, scaled by revenues.
Operating income
When other expenses of doing business—like executive salaries, selling costs, and general and administrative expenses (or SG&A)—are removed from gross profits, we get a company's operating income.
It looks like NOV's SG&A grew even faster—compared to its cost of revenues. This lead to a sharper drop in its operating margin—the operating income scaled by revenue—in the same period.
Although Wall Street analysts expect the measures to rebound in 2014, these trends imply that NOV either hasn't been able to keep a lid on its costs of doing business or it hasn't been able to pass on these costs to customers. It's likely under pressure from increasing competition from its peers—like Schlumberger (SLB), Halliburton (HAL), and Baker Hughes (BHI).
So, an exchange-traded fund (or ETF)—like the VanEck Vectors Oil Services ETF (OIH)—would be a good way for investors to benefit from the aggregated performances of all these competing companies.
EBITDA
Earnings before interest, taxes, depreciation, and amortization (or EBITDA) is a measure of cash profitability. It's commonly used by the markets. It includes non-operating sources of income. It adds back non-cash depreciation and amortization charges to operating income.
EBITDA is a widely used number in companies' valuation. We'll discuss this later in this series.
While NOV's EBITDA almost doubled in the last seven years, its EBITDA margin deteriorated—when scaled by revenues.
In the next part of the series, we'll discuss NOV's earnings.