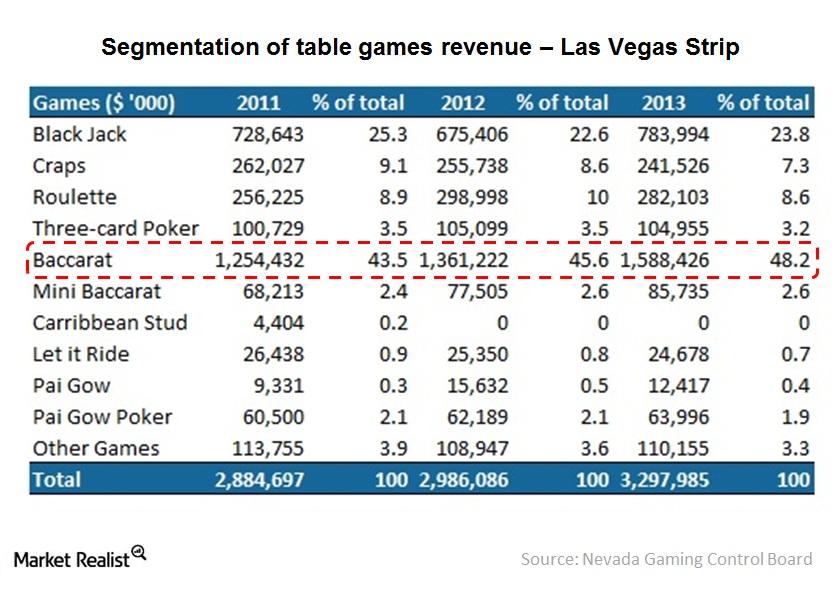 Why Baccarat gambling provides revenue for the Las Vegas Strip
Baccarat gambling
Baccarat is a card game. Baccarat gambling is more popular in Asian markets than in the U.S. VIP Baccarat represents roughly two-thirds of the gaming revenue for Macau. This shows that Baccarat is popular among high-stake gamblers. Casino operators—like MGM Resorts (MGM), Wynn Resorts (WYNN), and Las Vegas Sands (LVS)—benefit from the Baccarat games. In order to get exposure to all of these companies, investors could invest in exchange-traded funds (or ETFs) like the Consumer Discretionary Select Sector SPDR Fund (XLY) and the VanEck Vectors Gaming (BJK).
Major contributor to tables
Luck does play a vital role in the high-end Baccarat gaming segment. The above chart shows that revenues generated from Baccarat represent almost half of the total table game revenues in 2013.
The casinos in the Las Vegas Strip clearly benefit from high-end Baccarat play. Over the last four years, Baccarat revenue ranged from 43.5% of table games revenue in 2011 to 48.2% in 2013.

Article continues below advertisement
Baccarat is the only table game that expanded casinos' wins since 2007. It increased at a 10% compound annual growth rate (or CAGR) since 2007. On average, it accounted for 45% of all Las Vegas Strip wins. Blackjack and Craps are the second and fourth biggest games by share, respectively. They declined at a 4% annual rate during the same period.
In the next part of the series, we'll discuss the potential for online gambling in the U.S.