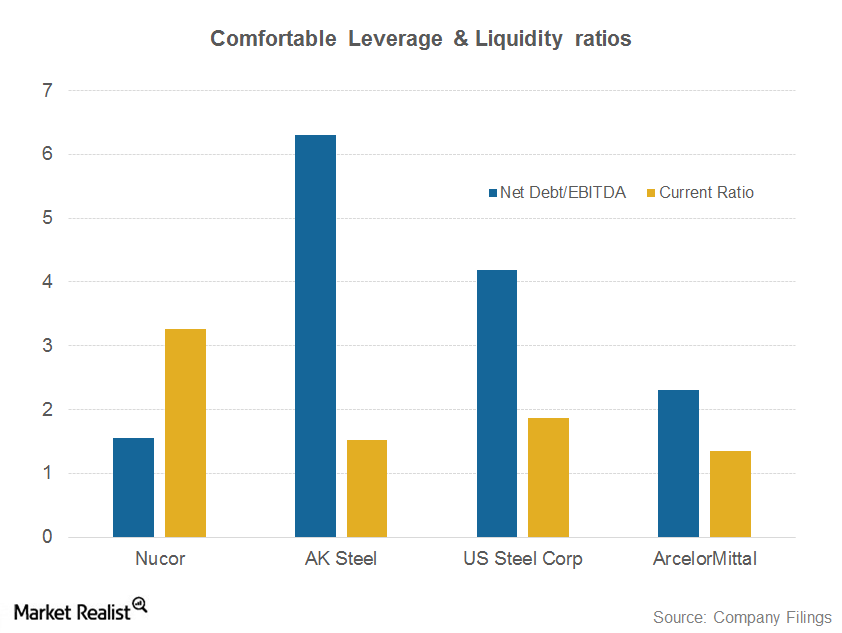 Why Nucor might acquire mining assets
Why Nucor might look at mining assets
In the previous part of this series, we discussed Nucor's direct-reduced iron (or DRI) facilities. Until recently, Nucor was using steel scrap as the primary raw material for its plants. Using DRI diversifies Nucor's raw material requirements. Interestingly, steel scrap prices have been steady, while iron ore and coal prices have come down.
Falling iron ore and coal prices have made steel production through blast furnaces cheaper by almost $100 per ton. Because Nucor produces steel through electric arc furnaces, mainly using steel scrap, it was not able to reap the benefits of falling iron ore prices. With DRI, Nucor can take advantage of low iron ore prices.
Falling iron ore prices have lowered valuations of mining companies
Article continues below advertisement
With the fall in iron ore prices, valuation of iron ore companies has dropped. The share prices of all major iron plays have tanked this year. Even integrated steel mills like U.S. Steel (X) and ArcelorMittal (MT) have been negatively impacted. Integrated steel mills own mining assets, along with steel mills. Nucor is planning to look at possible iron ore assets. The recent fall in iron ore prices could help Nucor strike a good deal in this space.
Nucor has comfortable leverage ratios
Nucor has a history of investing in downturns. It invested almost $6 billion from 2009 to 2014. The current downturn in iron ore prices presents an interesting opportunity in that space. Nucor has comfortable leverage ratios, which means it still has a lot of room to grow itself. Nucor is the only North American steel producer to hold investment-grade credit ratings due to its comfortable liquidity and leverage ratios, as the above chart illustrates.
At the end of the third quarter, Nucor holds $41.4 billion in cash and short-term investments. It also has a revolving credit facility of $1.5 billion. This can act as a war chest for future acquisitions.
Investors can also access the steel industry through AK Steel (AKS) and the SPDR S&P Metals and Mining ETF (XME).
Please see our steel page for other recent developments in the steel industry.