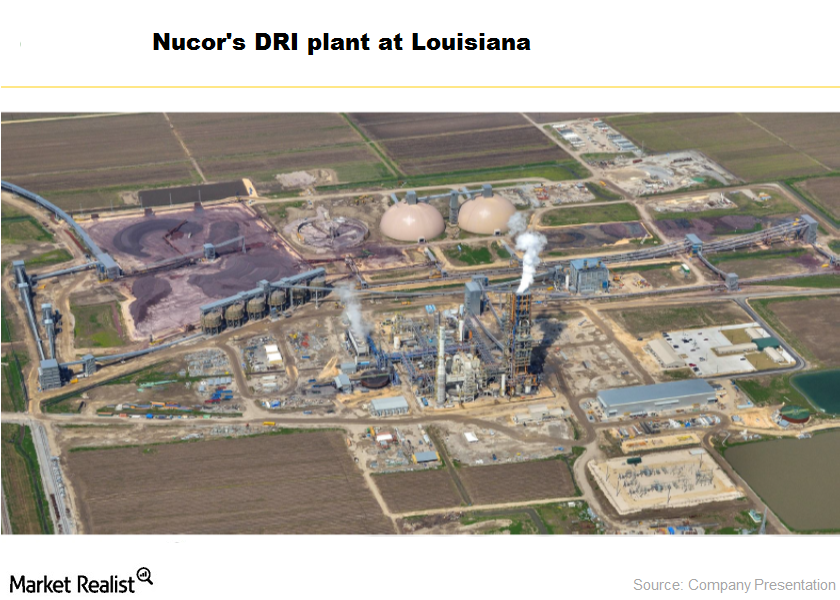 Key takeaways from Nucor's 3Q14 cost structure
Higher raw material costs in 3Q
In the previous part of this series, we discussed how Nucor's net sales have increased 15% over 3Q13. In this part, we'll analyze the cost structure of Nucor in 3Q. Let's begin with the raw material costs. The average scrap costs increased 2% over the third quarter of 2013. However, in comparison to 2Q14, the average scrap costs have actually come down by 1%.
Due to an increase in electricity costs, the energy costs went up in 3Q. The energy cost, per ton of steel, went up by almost $1 over 3Q13. The biggest drag on Nucor's profitability though, came from its direct-reduced iron (or DRI operations). As discussed in the previous part of this series, DRI is a raw material for making steel.
Unanticipated losses at DRI plant drag Nucor's profits
Nucor recently started production at its DRI plant in Louisiana. You can see the layout of the facility in the chart above. This is one of the biggest plants globally with annual capacity of 2.5 million tons. There was a loss of almost $0.09 per share on account of this plant.
Article continues below advertisement
Article continues below advertisement
Nucor (NUE) also faced design issues at this plant in the second quarter. This quarter, Nucor faced failure in another process. Unexpected costs are not uncommon with new facilities. From an investor's perspective, the worrisome sign is the recurrence of these costs. Nucor management expects substantial improvement in financial performance of this facility in the next quarter.
DRI could be a key driver for Nucor's future earnings. We'll discuss this in greater detail going forward. Recently U.S. Steel (X) has also invested in DRI facilities. This is part of a strategic shift at U.S. Steel.
In the next part we'll analyze Nucor's profit margins. Investors can also access the steel industry through ArcelorMittal (MT), AK Steel (AKS), and the SPDR S&P Metals and Mining ETF (XME).