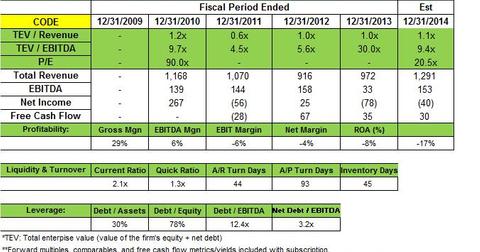 Chilton Investment Company sells its position in Spansion in 2Q14
By Patricia Garner

Updated
Chilton and Spansion Inc.
Chilton Investment Company added new positions in Fortune Brands Home & Security Inc. (FBHS), JB Hunt Transport Services Inc. (JBHT), NOW Inc.(DNOW), Gartner Inc. (IT), and Kansas City Southern (KSU). It sold positions in Canadian Pacific Railway Ltd. (CP), Spansion Inc. (CODE), LKQ Corp. (LKQ), Avago Technologies Ltd. (AVGO), and Kohlberg Kravis Roberts & Co. L.P (KKR).
Chilton Investment Company sold its position in Spansion (CODE) that had accounted for 1.16% of the fund's 1Q U.S. long portfolio.
Overview of Spansion

Spansion designs, manufactures, and develops embedded systems semiconductors, which include flash memory, microcontroller, mixed-signal, and analog products and embedded system-on-chip solutions. The company focuses on the transportation, industrial, consumer, communications, and gaming markets.
Article continues below advertisement
Spansion, which is most known for its NOR products, is expanding its portfolio in the areas of NAND flash memory, microcontroller, mixed-signal, and analog products, as well as programmable system solutions or embedded system-on-chip solutions. The expansion aims to broaden Spansion's customer engagement and bring differentiated products to embedded markets. To further this strategy, Spansion acquired the microcontroller and analog business of Fujitsu Semiconductor Limited (FSL) in August of last year for $150 million.
In fiscal 2013, Spansion reported net sales of $971.7 million and net loss of $78.3 million.
Company missed second quarter estimates
Spansion posted a 61.3% increase in revenue year-over-year to $314.7 million. Results missed estimates and the company saw GAAP operating loss of $8.0 million and diluted net income per share of 0.24. Despite strong demand, Spansion said it saw challenges in supply from its microcontroller foundry partners, which resulted in delayed product delivery to customers.
The company said it maintained its leadership in the embedded market. Its edge in this space is driven by strong growth of newer products such as NAND, 45 nanometer flash, microcontroller units or MCUs, and analog. Spansion also launched new automotive MCUs and energy harvesting power management circuits.
Spansion and Winbond sign licensing agreement
Spansion signed a cross-license agreement with Winbond Electronics Corporation, a worldwide leading supplier of specialty memory. The deal gives both companies access to each other's flash memory patent portfolio. The agreement will also provide opportunities to broaden the product portfolio and collaborate on new products.
LKQ Corp.
In the next part of this series, we'll discuss why Chilton Investment also exited its position in LKQ Corp.