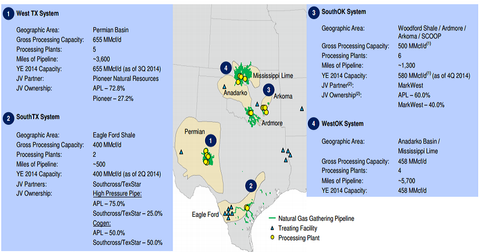 A brief overview on Atlas Pipeline Partners
By Keisha Bandz

Updated
About Atlas Pipeline Partners
Atlas Pipeline Partners, L.P. (APL) is a master limited partnership, or MLP. The company provides natural gas gathering and processing services in the Eagle Ford Shale play in Texas, as well as in the Anadarko, Arkoma, and Permian basins. These basins are located in the southwestern and mid-continent regions of the United States.
The company also provides natural gas gathering services in the Appalachian Basin. And, it provides natural gas liquid (or NGL) transportation services in the southwestern region of the United States.
Atlas Energy LP (ATLS), through its subsidiary Atlas Pipeline GP, owns both 2% general partner interest and approximately 6% limited partner interest in APL.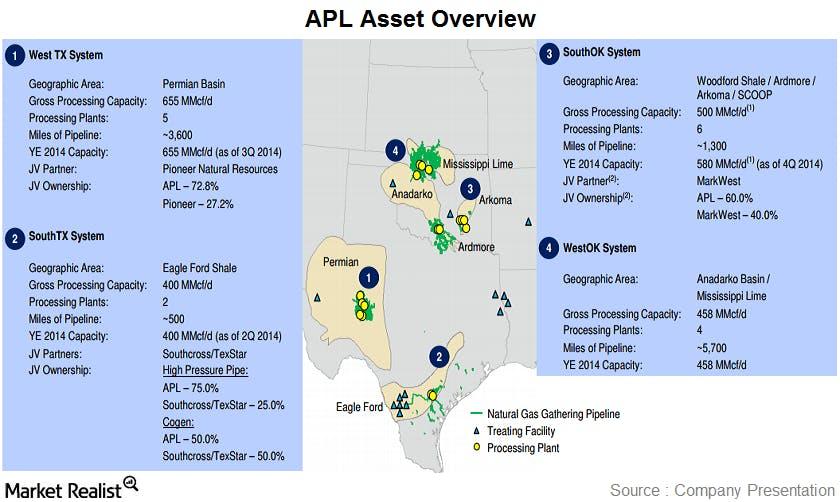 Atlas Pipeline's operations
Atlas Pipeline's business is organized into two segments—gathering & processing and treating & transportation.
Gathering & processing
This segment is made up of the SouthOK, SouthTX, WestOK, and WestTX operations. All of these combined have midstream assets—gathering, processing, and treating—in the Anadarko, Arkoma, and Permian basins, and in the Eagle Ford Shale play.
This segment also operates natural gas gathering assets in the Barnett Shale and the Appalachian Basin.
Assets include 17 natural gas processing plants with capacity of approximately 2000 MMcf/d (million cubic feet per day), a gas treating facility in Oklahoma, and gathering systems of approximately 11,200 miles. These systems stretch across Oklahoma, Kansas, Tennessee, and Texas.
The treating & transportation segment
This segment involves treating natural gas and then transporting it via the West Texas LPG pipeline (or WTLPG).
WTLPG is a common-carrier pipeline owned by West Texas LPG Pipeline Limited Partnership in which APL has a 20% interest. The remaining interest is owned by Chevron Corp (CVX). This segment has 17 gas treating facilities operating in various shale plays, including the Avalon, Eagle Ford, Granite Wash, Haynesville, Fayetteville, and Woodford.
Read Must-know: Introduction to Atlas Pipeline Partners to learn more about APL.