Must-know: The pros and cons of Braintree's growth for PayPal
By Puneet Sikka

Nov. 26 2019, Updated 3:07 p.m. ET
Braintree is driving PayPal's growth
Previously in this series, we discussed why it's important that PayPal increase its mobile penetration as competition in the mobile payment space increases. With this in mind, eBay Inc (EBAY) acquired Braintree last year for $800 million. Braintree is a payment company that supplies technology to process mobile credit card transactions. Its Venmo application helps people instantly wire money to their friends' bank accounts from their phones.
Article continues below advertisement
During its earnings call, eBay's management noted that Braintree is gaining new merchants and has developed new software that allows merchants to quickly integrate Braintree and PayPal. Management also noted that Braintree is growing rapidly, and helping PayPal extend its reach in the mobile payment market.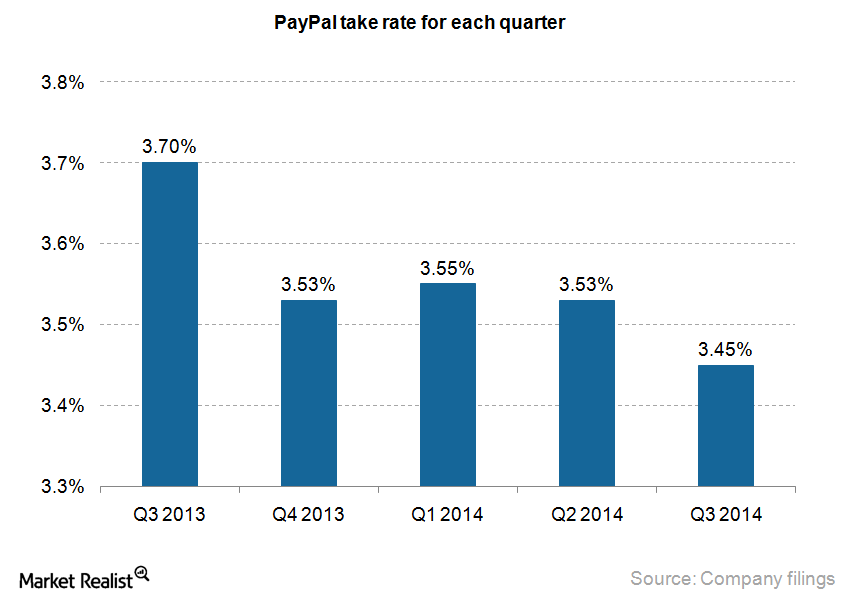 PayPal's declining take rate and margins
Meanwhile, Braintree's take rate (or transaction commission) is much lower than PayPal's, which means that PayPal's overall take rate continues to decline. As the chart above shows, PayPal's take rate declined from 3.70% in 3Q13 to 3.45% in 3Q14.
PayPal's take rate could decline even more in the future because of competition. Amazon.com, Inc. (AMZN) recently launched a mobile credit card reader with a processing fee that is 1.75%+ lower than Square's 2.75% and PayPal's 2.70%, according to a report from The Wall Street Journal.
The take rate decline caused PayPal's non-GAAP (generally accepted accounting principles) operating margin to decline from 22.7% in 3Q13 to 20.9% in 3Q14. Management noted that Braintree's strong growth negatively impacted PayPal's transaction margin by 0.7%.
During the conference call, management also mentioned that it's been working hard to ensure PayPal becomes an effective form of mobile payment with Google Inc's (GOOG)(GOOGL) Google Wallet. And it's hopeful that Apple (AAPL) Pay will work with the company in the near future. For PayPal, these are important partnerships for growth, and Braintree's part in them shouldn't be understated.