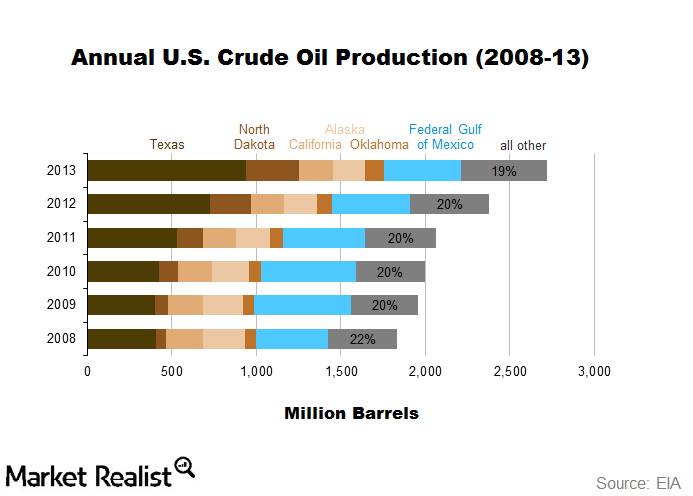 Why the outlook for US Steel's tubular goods is positive
Outlook for U.S. Steel's tubular segment
The previous article in this series discussed the anti-dumping duties on tubular goods. Because the oil and gas industry uses these products, the expected growth in this industry will also drive the demand for tubular goods. U.S. Steel is the largest supplier of these goods in the North American market. Until now, imported goods met almost half of the demand in this segment.
Demand for tubular goods expected to increase
Article continues below advertisement
Article continues below advertisement
With the recent imposition of anti-dumping duties, imports of tubular goods will likely decrease. As a result, U.S. Steel's revenue in the tubular segment will likely increase. Plus, as the chart above illustrates, crude oil production in the U.S. has increased. This is a positive sign for U.S. Steel because it is a major supplier of tubular goods to the industry. As the economy continues its growth trajectory, oil and gas production will likely continue to increase.
Prices of tubular goods have come under pressure due to cheap imports. Analysts expect the prices of tubular goods to increase as a result of the anti-dumping duty. Any increase in the steel prices directly benefits steel companies like U.S. Steel (X), ArcelorMittal (MT), Nucor (NUE), and AK Steel holdings (AKS). Another way investors can access the steel industry is through the SPDR S&P Metals and Mining ETF (XME).
Nucor acquires Gallatin Steel
Nucor, the most profitable steel company operating in the U.S., recently acquired Gallatin Steel, which manufactures tubular goods. This acquisition is an indication of the importance of the tubular goods sector for steel companies.
U.S. Steel recently made certain strategic announcements that caused its stock price to surge. These announcements are part of the transformation strategy at U.S. Steel. The next article in the series will analyze the company's strategic transformation.