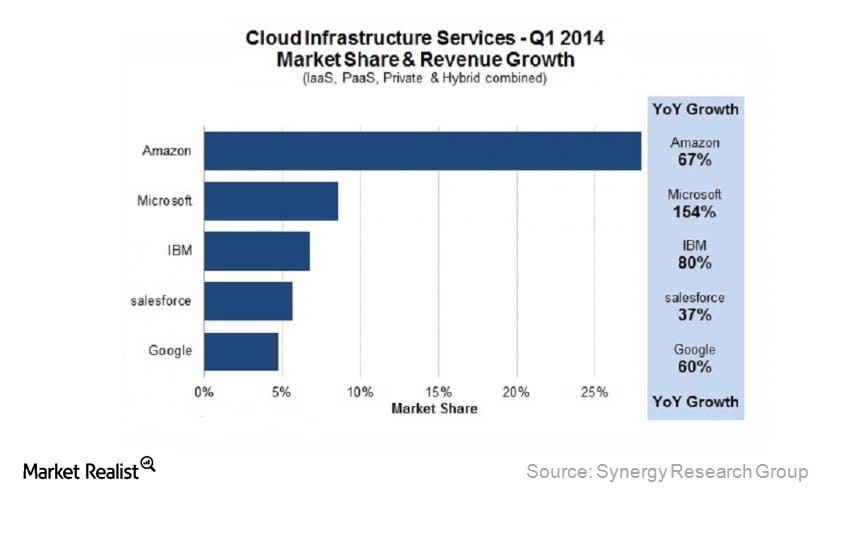 Why Oracle's cloud growth lags behind IBM and other peers
By Anne Shields

Sep. 1 2020, Updated 9:45 a.m. ET
Oracle's cloud revenues are growing—but at a much slower pace than the overall cloud space
On-premise software application leaders are grappling with changes posed by the emergence of the "cloud" in the IT industry. Owing to the rapid growth in this market, the cloud has garnered more than enough interest from leading software players.
According to a Synergy Research Group report, the cloud infrastructure services market that includes IaaS and PaaS components grew at a rate of 45% in Q2 2014. Oracle's cloud services revenues grew from $363 million in fiscal Q1 2015 to $475 million in fiscal Q4 2014 at a growth rate of ~31%. This growth rate is lower than the overall market's. So Oracle is lagging behind its competitors in taking up the opportunity provided by the high-growth cloud services market.
Article continues below advertisement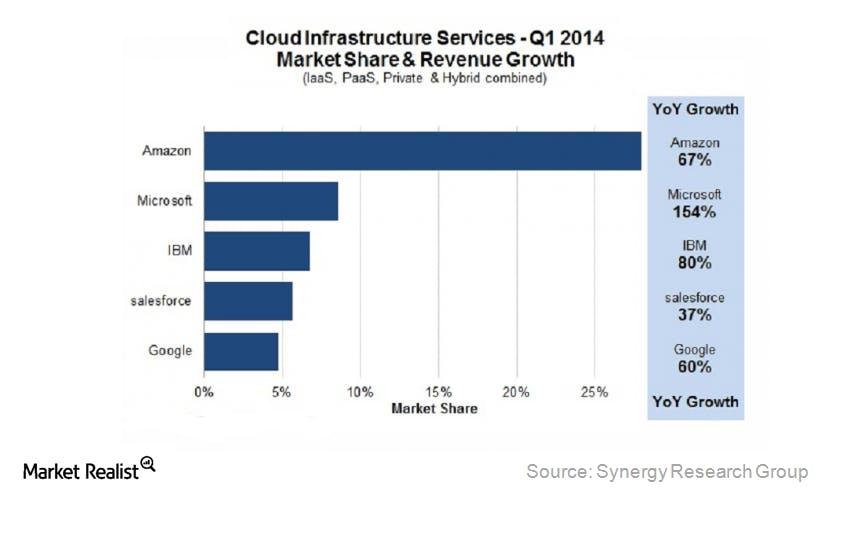 Cloud Infrastructure market witnesses high growth
According to Synergy Research Group, Amazon led the cloud infrastructure market with a share of 28%. Microsoft held the second position at 8.5%, while IBM , Salesforce.com , and Google took the remaining three positions in the top five rankings, as the chart above shows. The year-over-year growth rates of these top five companies have been in the range of 37%–154%. This range is higher than Oracle's growth rate of ~30%–31%. So Oracle faces quite a stiff challenge in this fast-growth market.
Low contribution of cloud offerings
Article continues below advertisement
Cloud offerings only contribute 5.5% to overall Oracle revenues. The low contribution of cloud-based products when there's an increased trend towards cloud adoption has jeopardized Oracle's position. In 1Q15, Oracle mentioned its internally developed Fusion cloud applications grew at a ~200% growth rate. It didn't mention the applications' contribution to the company's overall revenues.
Stiff competition in the cloud infrastructure market leaves little scope for Oracle
Oracle's cloud subscription sales in fiscal 2014 grew 15.4% on a year-over-year basis. Its peers, Salesforce (CRM) and SAP, have reported cloud subscription sales growth of over 30% in fiscal 2014. The decline in Oracle's overall SaaS sales growth was due to weak performance from its IaaS product offering. Cloud subscriptions in SaaS and PaaS registered a sales growth rate of 24% in fiscal 2014.
Amazon's Web Services' (AMZN) enormous market share in the IaaS market and its cutthroat pricing strategy leave much less space for Oracle's IaaS offering to grow.