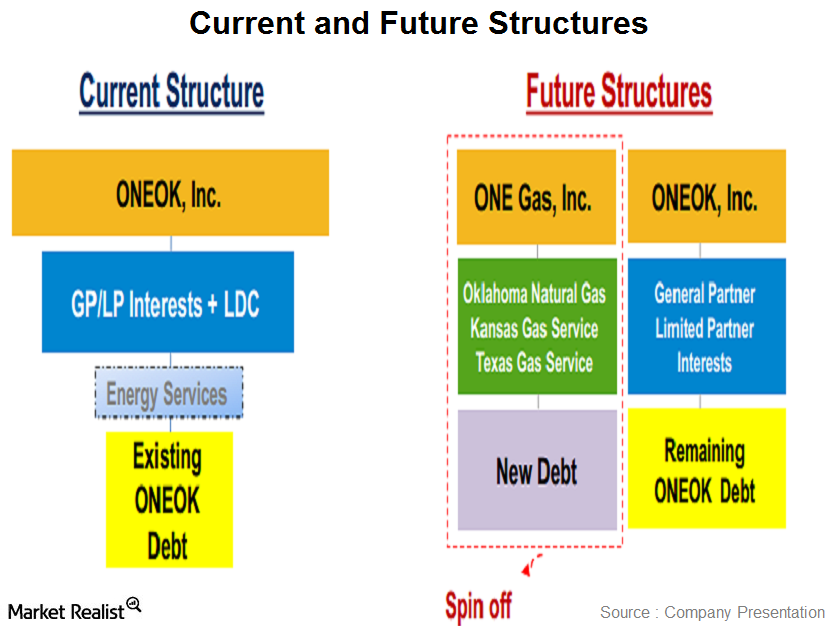 Must-know: Why ONEOK restructured its business, creating ONE Gas
Natural gas distribution business separated
Earlier this year, ONEOK (OKE) created a new stand-alone publicly traded company called ONE Gas (OGS), separating its natural gas distribution business into a separate dedicated company. The company believes that by having two separate companies, each of the companies will have a greater focus on its individual strategy, financial strength, and growth potential.
Prior to the separation, ONEOK owned general partner interests in the natural gas distribution business, the energy services business, and ONEOK Partners (OKS).
Article continues below advertisement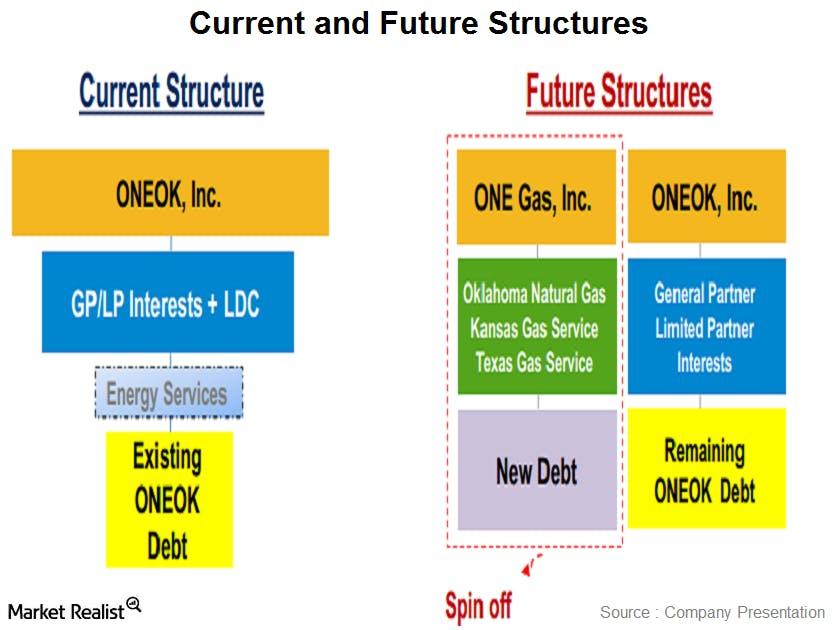 Today, OKE consists of the sole general partner and limited partner interests in OKS, which is currently 41.2%.
Article continues below advertisement
OKE winded down its energy services business. Operations ceased on April 1. The company stated that the segment had limited opportunities to generate revenue due to lower natural gas price volatility and narrowed natural gas price differentials. The company added that the segment no longer fit its business strategy.
To learn more about energy MLPs (or master limited partnerships), click here.
ONE Gas
The new company consists of ONEOK's former natural gas distribution segment, which includes Kansas Gas Service, Oklahoma Natural Gas, and Texas Gas Service.
ONEOK shareholders on record at the close of business on January 21, 2014, retained their current shares of ONEOK stock and received one share of ONE Gas stock for every four shares of ONEOK stock owned.
Article continues below advertisement
The company mentioned in its 10-K that ONE Gas is the largest natural gas distributor in Oklahoma and Kansas and the third largest natural gas distributor in Texas, servicing more than two million customers in these states.
ONE Gas provides service as a regulated public utility to wholesale and retail customers—including residential, commercial, and industrial—and transportation customers.
Key ETFs
OKS is a component of several MLP ETFs, including the Alerian MLP ETF (AMLP)—which tracks the Alerian MLP Infrastructure Index (AMZI)—the Global X MLP ETF (MLPA), and the First Trust North American Energy Infrastructure Fund (EMLP).
Several factors govern a company's business outlook. Read on to know about what factors affect OKS' business.