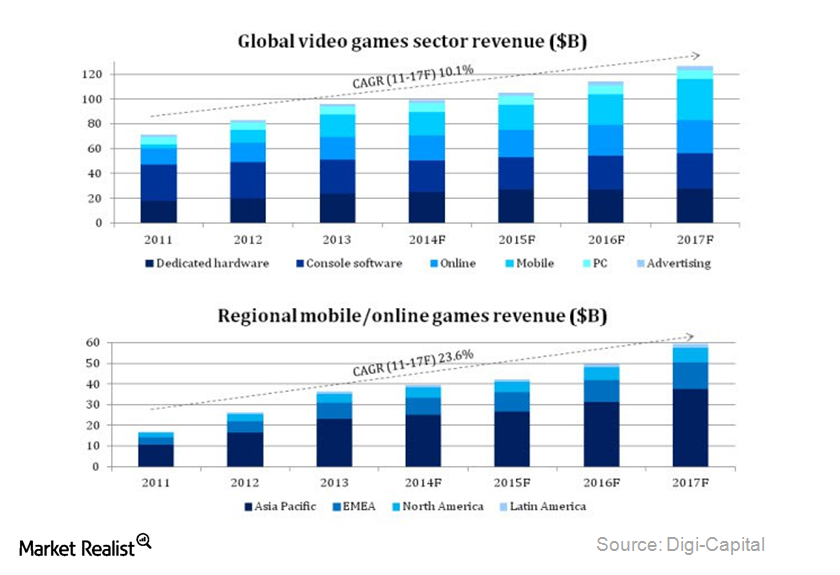 A lucrative sector: Why you should look to Asia's gaming markets
Falling prices for handsets are paving the way for gaming devices
With each passing day, the prices for handsets such as Google's (GOOGL) Android and Apple (AAPL) iOS devices are falling. This trend has played a key role in the popularity of games, especially among youth, benefiting the gaming industry.
Nintendo (NTDOY), SOHU.COM (SOHU), and Tencent Holdings (TCEHY) are leading players in the Asian gaming industry.
Asia is a key driver in the growth of the online and mobile gaming industry
Digi-Capital expects Asia and Europe together to form 87% of global mobile and online games revenue by 2015. Asia in particular will be integral to this growth, as more than 50% of this global growth is expected from the continent—32% in China, 12% in South Korea, and 10% in Japan.
Article continues below advertisement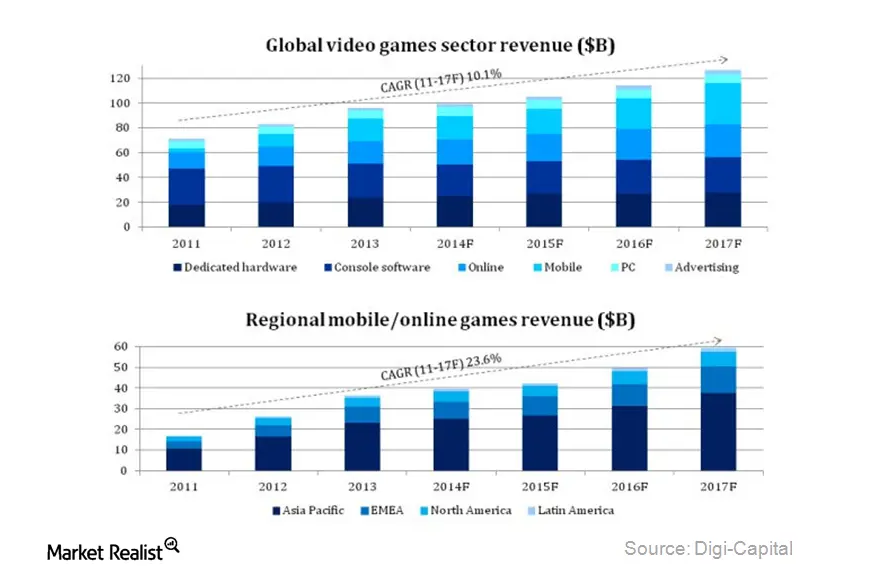 The video game industry in Asia offers higher margins
The video game industry in Asia—especially China, Japan, and South Korea—is churning out games that offer up to 50% operating margins. High margins allows these businesses to invest significantly in foreign markets.
Rising popularity among the huge base of the youth population and adoption of online and mobile games are expected to drive these markets' contribution to global video game revenue by 57%, as reported by Digi-Capital. The global video game industry is expected to reach $83 billion by 2016.
Article continues below advertisement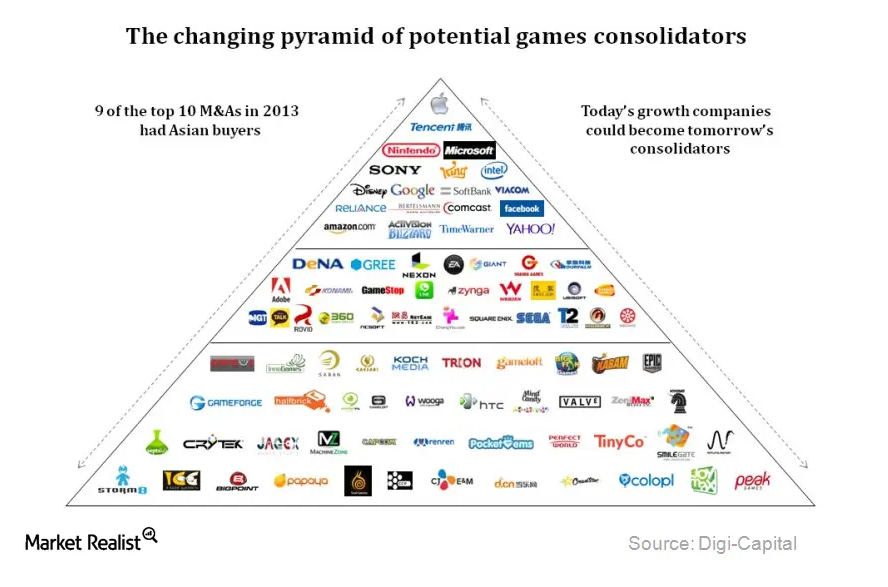 The Asian mobile and online gaming market is attracting huge investments
Owing to the rapid growth in Asia in the mobile and online market, there's a significant amount of mergers and acquisitions activity in this space. In 2013, as the above graphic shows, nine of the top ten game deals had Asian buyers, while it had been eight out of ten in 2012. From 2011 to 2013, 13 out of 15 game initial public offerings (or IPOs) came from Chinese, Japanese, or South Korean companies.
Mobile games are expected to drive the global game software industry's revenues to $100 billion by 2017. Owing to its high growth, the gaming industry is considered one of the most lucrative sectors in the entertainment and software market.