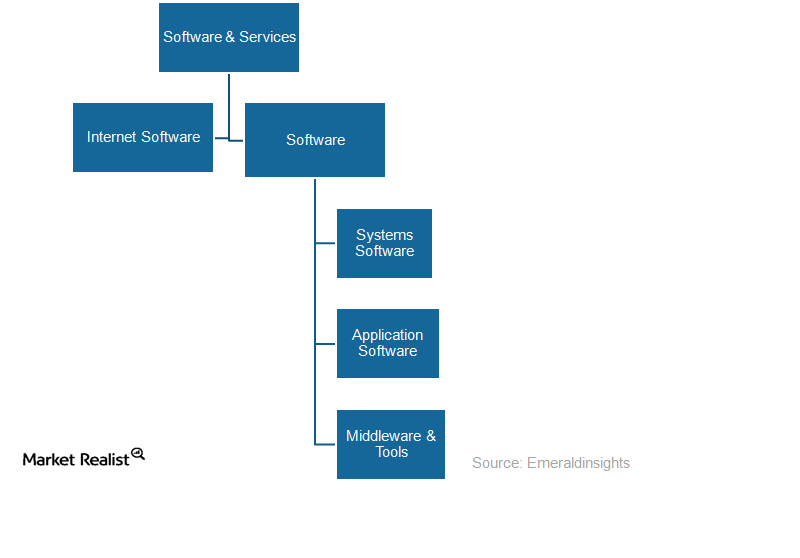 Why "systems software" is important in the software industry
<p>Systems software includes operating system and the associated programs, which enable systems and computers to work. </p>
Systems software
The global software and services industry is comprised of "internet software" and "software." However, "internet software" encompasses companies like Google and Yahoo that run search engines to gather huge data like web pages. They process the data at a lightning speed to produce search rankings. "Software" can be classified into systems software, application software, and middleware and tools. Microsoft (MSFT), Oracle (ORCL), SalesForce.com (CRM), Google (GOOG), and IBM Corp. (IBM) are key players in the software industry.
Systems software
Systems software includes operating system and the associated programs, which enable systems and computers to work. It provides the foundation for the infrastructure software that links and manages hardware, networks, and software together.
Components of Systems software
Article continues below advertisement
Article continues below advertisement
It's comprised of operating systems, system and network management, and information management. The operating system controls the basic functions of a computer or network. It's a software program that enables hardware to communicate and operate with the computer software. Microsoft (MSFT) is a leading player in this segment with 90% of personal computers using Windows as their operating system.
System and network management are involved in the provision, capacity, performance, and availability of information technology (or IT) systems and networks. For example, when the workload increases, the processing capacity must be increased to accommodate the larger workload, which is then managed either automatically or manually. Fortinet (FTNT), Lucent (ALU), and Symantec (SYMC) are some of the leading players in this area.
Under information management, database management systems are used for data storage and organization. It includes:
• Business intelligence analytic software products for storing, access, and analyzing complex data
• Data warehouse mining, quality tools, and storage management for providing basic data organization functions like file systems, volume management and physical replication.
Oracle (ORCL), Microsoft (MSFT), and SAP AG (SAP) lead the database software market.
The System software industry caters to enterprise application development markets through direct sales and channel partners. Channel partners include value added re-sellers (companies adding value to existing products and selling them) and system integrators. Enterprise application development spans new and complex technologies, varied programming languages, and developer communities in response to the changing business environment.