Why small business optimism continues to recover slowly
Small business accounts for roughly half of the U.S. gross domestic product (or GDP) and jobs.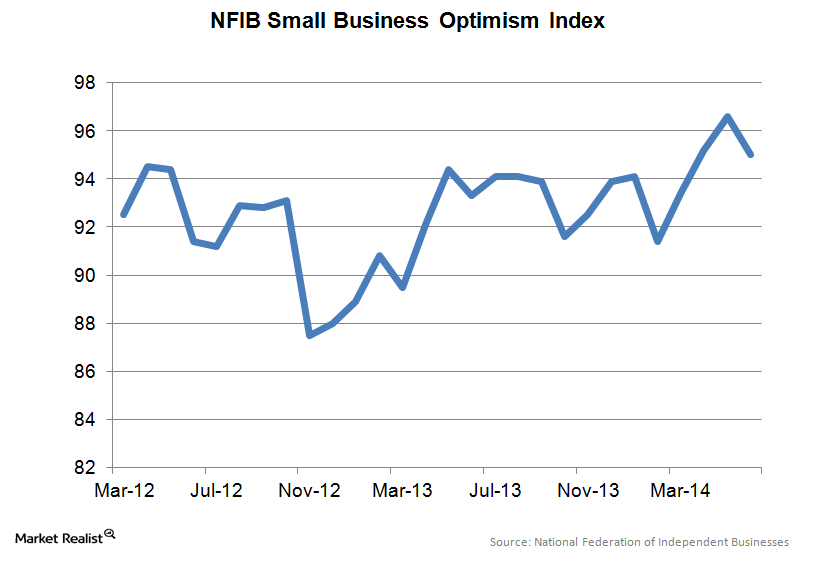 Small business optimism recovering slowly
The National Federation of Independent Business is a monthly report that contains a wealth of information regarding trends for small businesses. It examines labor markets, plans for capital expenditures, credit availability, inventory and sales data, inflation, earnings, and economic outlook. The survey goes back to 1986, so it's useful to compare current conditions with prior peaks and valleys.
Article continues below advertisement
Article continues below advertisement
Small business accounts for roughly half of the U.S. gross domestic product (or GDP) and jobs. While the financial press tends to focus on the large-cap stock market indices as economic barometers, small business tends to receive less attention. Large capitalization stocks generally have a large international focus. Their earnings and sentiment don't necessarily represent the economy as a whole. When forecasting the Fed's next move, it's important to focus on small business earnings as much as or more than the earnings of a large company, such as Apple.
The Optimism Index is recovering, but we're still below normalcy
The Optimism Index ticked down to 95 from 96.6 in June. "Normalcy" is an index reading of around 100, so we're well below the trend. The employment index increased two points in June, while the expectations of earnings trends ticked down one point. Expectations about the economy decreased by ten points. 13% of respondents plan to raise wages in the coming months.
More firms are reporting sales declines rather than sales increases. Of all small business owners, 13% cited poor sales as their greatest problem. Regulation and red tape came in second, with 20% of all respondents citing them as their biggest concern. First place went to taxes, with 22% of the surveyed firms citing them as their biggest concern. Credit availability has the lowest concern, although half the respondents said they weren't interested in borrowing. This dovetails with the low capital expenditures level, where only 22% of all respondents intend to make capital outlays in the next three to six months. This is a recessionary reading, but it has been this way since the recession began.
Implications for office REITs
Office real estate investment trusts (or REITs) like Boston Properties (BXP), Vornado (VNO), SL Green (SLG), Kilroy (KRC), and Brookfield Office Properties (BPO) will rely on small business formation and expansion to lower vacancy rates, which are still elevated for this part of the recovery. The fact that small business is hiring at the fastest pace in eight years is a good sign for further office demand going forward.