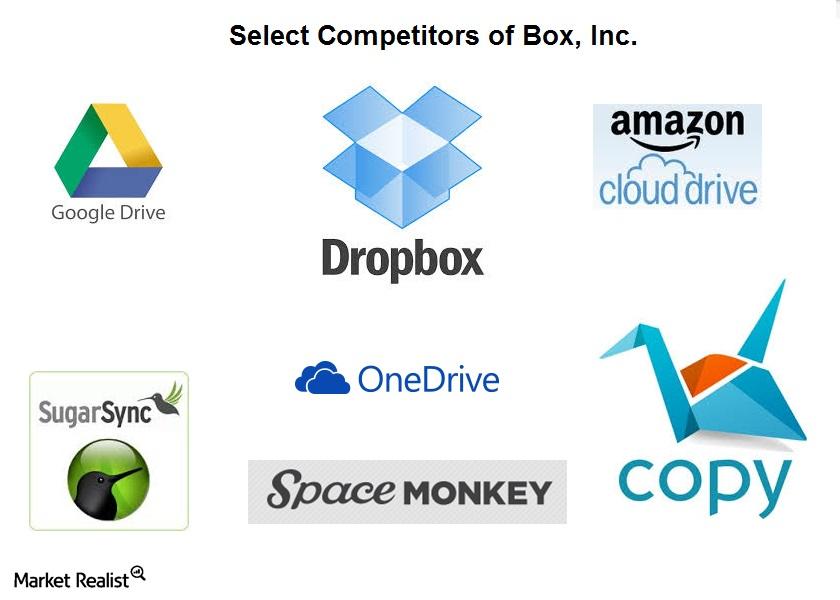 Must-know: An analysis of Box's weaknesses
Box's weaknesses
Box's (BOX) weaknesses include its aggressive sales spending, negative earnings and cash flow record, and a crowded competitive landscape in a service based on commodity.
Aggressive sales and marketing spend and non-paying customers
At least partially, Box's high growth rate is due to an aggressive sales and marketing strategy. Notably, the most significant cost item for Box has been sales and marketing. One of Box's primary growth strategies is to acquire customers and gain market share. The vast majority of Box users are non-paying customers. This is part of the company's strategy to get new users familiar with the brand and introduce them to the product's features, in the hopes of getting them to upgrade to a paying service in the future either for personal or enterprise use. For all the users that subscribe to Box for free, the company is losing money because it must provide storage and support for these customers while gaining no revenue. Additionally, it isn't clear if the investment in non-paying users can ultimately result in enough paying users in the long-term to generate a profit.
Negative cash flow and earnings
Article continues below advertisement
Article continues below advertisement
The high spending on sales and marketing, and the fact that most customers are non-paying, means that Box has had a negative cash flow and earnings over the past few years. It isn't clear if the company will ever turn a profit. During its last fiscal year, Box generated revenue of $124 million, but burned through all that and more, with negative cash flow from operations at $92 million.
Crowded competitive landscape
Part of the reason why Box has to expend so many resources on sales and marketing is that the enterprise file storage and collaboration space is already crowded with low cost competitors. Box's closest competitor, Dropbox, offers similar services at a similar price. Dropbox also offers a free service, although the free plan has two gigabytes (or GB) of storage compared to Box's ten GB. Dropbox also offers similar paid plans at $10 and $15 per month. Google (GOOG) also offers 15 GB of free storage to account users with its Google Drive feature. It has paid plans for additional storage and features. Amazon (AMZN) also offers Cloud Drive with five GB of free storage. Other similar services are offered by SugarSync, Copy by Barracuda Networks (CUDA), and Space Monkey.
Article continues below advertisement
There's no shortage of companies offering services similar to what Box offers. Also, some of these companies such as Google and Microsoft (MSFT) have plenty of cash to put to use in the event of a "storage space" war, if companies decide to compete on price. GOOG and MSFT could definitely afford to run these services at a loss for a long time (or perhaps indefinitely) if they wanted to do so. This isn't the case for companies such as Box and Dropbox that aren't generating cash from other services. Google, Amazon, and Microsoft are major large cap companies that are components of exchange-traded funds (or ETFs) such as the SPDR S&P500 Trust (SPY).
Also, cloud-based storage in itself is a commodity. It will be hard for any provider to charge a premium for it given the number of free and low-priced options that are available across so many different companies. Box is hoping to differentiate itself by offering a rich menu of privacy, sharing, and collaboration features. Box wants to make itself essential to enterprise level clients that require these functions. By offering more functionality and support, Box may be able to charge a premium, create high switching costs for heavy enterprise users, and sell its consulting and implementation services.
Continue reading the next section in this series to learn about Box's opportunities.