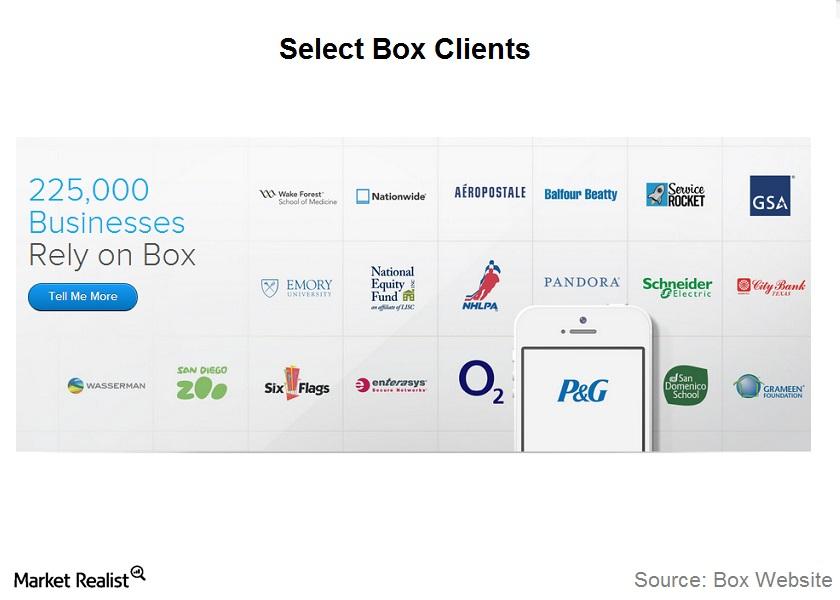 Must-know: An analysis of Box's strengths
By Ingrid Pan

Oct. 29 2019, Updated 11:55 p.m. ET
Box's strengths
Box's strengths include its high growth rate, its large user base including name brand clients, and its various features and support.
High growth rate
The one major upside for Box has been its strong growth rate. Year-over-year (or YoY), Box's revenue growth has been over 100% for the past two fiscal years, although the growth rate appears to have slowed down. Box also reports a metric called "Billings" which is revenue plus the change in deferred revenue over the period. Box invoices customers for services at the beginning of contract terms. If a customer pays the full amount at the beginning of the period, the entire amount is reflected in billings. The amount is then reflected in the revenue line over the length of the contract on a ratable basis.
Article continues below advertisement
Box is a new company, and a lot of its valuation is likely tied to future growth prospects. If the company reports growth that is less than the market expects, or has to continue to expend large amounts of resources to acquire new customers, especially paying customers, its valuation is likely to take a major hit. This was the case with Twitter (TWTR) over the past two reporting periods. The company managed to meet or exceed the financial guidance it had put out. However, the growth in its monthly active users (MAUs) was less than the market would have hoped. Twitter's stock fell from ~$65 per share the beginning of the year to ~$40 per share currently.
Large existing user base, including major enterprise clients
Box currently has 25 million registered users. Although most of Box's users are non-paying, the company's paying enterprise customers represent a variety of major names, such as Chevron (CVX), Dell (DELL), eBay (EBAY), and most recently General Electric (GE) which are components of the SPDR S&P500 ETF (SPY).
Feature-rich platform is attractive to enterprise clients
Box offers a variety of features, such as special privacy controls, collaboration tools, and integration with other cloud-based platforms such as Salesforce.com. Additionally, Box offers customized solutions for enterprise content collaboration. A higher level of service and features could differentiate Box among its competition, particularly for enterprise level clients.
Continue reading the next section in this series to learn about Box's weaknesses.