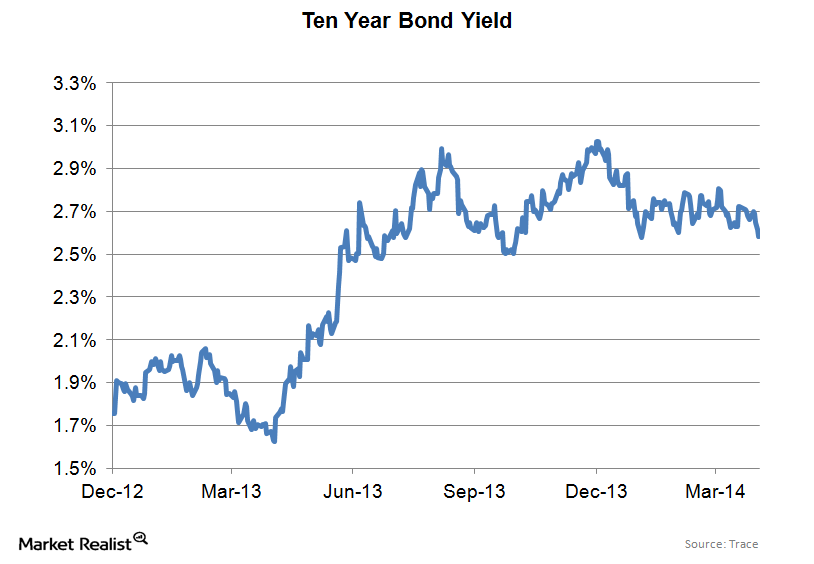 Must-know: Why bonds rallied on weak economic and jobs reports
By Brent Nyitray, CFA, MBA

Dec. 4 2020, Updated 10:53 a.m. ET
The ten-year bond is the building block for many important interest rates
The roundup is a weekly series in which we discuss the week's trading in government bonds and TBA (To-Be-Announced) mortgage-backed securities. We'll see where mortgage rates have been and we'll go over the weekly economic data and earnings announcements. Then we'll look forward to what's coming up the following week. The information in this series will be relevant to mortgage REITs like American Capital Agency (AGNC), Annaly (NLY), Hatteras (HTS), Capstead (CMO), and MFA Financial (MFA) as well as people who invest in fixed income ETFs like TLT or in homebuilders.
Bonds rally as first quarter GDP growth comes in almost flat
Article continues below advertisement
Bonds followed through on last week's rally with another rally. After closing out the prior week at 2.66%, interest rates moved lower in response to the weak first quarter GDP report, whose estimated growth was merely 0.1% for the quarter, or almost flat. Second, we had a weak construction spending report, which caused a couple big investment banks to revise their estimates for first quarter GDP growth to negative.
The FOMC met last week and maintained interest rates at current levels and reduced asset purchases by another $10 billion a month. The language in the statement was considered relatively dovish, as the Fed said it may be appropriate to maintain interest rates at exceptionally low levels even after unemployment and inflation reach the Fed's targets.
Finally, on Friday, we had a strong payroll growth number, but the internals of the report (a big drop in the labor force participation rate, no wage growth) offset the headline number and bonds continued to rally. Overall, the ten-year bond yield fell 8 basis points to close out the week at 2.58%
In the next parts of this series, we'll look at trading in the TBA market (which is the basis for mortgage rates), see where mortgage rates have been for the week, and then discuss the past and upcoming economic data.