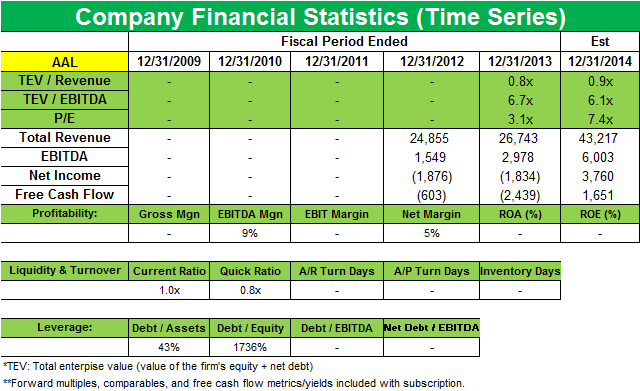 Appaloosa Management raises its stake in American Airlines Group
Appaloosa Management and American Airlines Group
David Tepper's Appaloosa Management started new positions in OTAs (online travel agencies) The Priceline Group (PCLN) and Expedia Inc. (EXPE) and social networking service Facebook Inc. (FB) last quarter. Notable position increases were Halliburton Co. (HAL) and American Airlines Group Inc. (AAL). Top selloffs were Fluor Corp. (FLR) and Hartford Financial Services (HIG).
Appaloosa Management enhanced its position in American Airlines Group Inc. (AAL) last quarter that now accounts for 3.48% of Appaloosa's total 1Q portfolio. American Airlines' earlier position in the total portfolio was 2.22%, initiated in 4Q 2013.
Article continues below advertisement
Appaloosa founder David Tepper indicated a bullish bias last year when he told Bloomberg TV in November, "Our big play versus the market is airlines. We're the biggest holder of all these different airlines." He added, "And you know what, they did pretty good… I think Delta more than doubled. I think some of these other stocks are up 70%. AMR obviously I think this year the way it's set up this year it was probably a triple."
American Airlines parent AMR Corporation and US Airways Group (LCC) officially announced their $17 billion merger on December 9 last year. Under the merger, US Airways Group became a subsidiary of AMR Corporation, which changed its name to American Airlines Group Inc. (AAG). American Airlines emerged from bankruptcy and combined with US Airways under a new stock ticker, AAL. According to the press release on the merger, the transaction is expected to generate more than $1 billion in annual net synergies by 2015.
Article continues below advertisement
For 1Q 2014, which was American Airlines Group's first full quarter as a merged company, the results beat on earnings but missed on revenue estimates. The company reported $0.54 earnings per share for the quarter on revenue of $10 billion, up 5.6% year-over-year on a combined basis. The growth in revenues was driven by a 1.7% increase in revenue passenger miles and a 3.2% increase in yield. The airline carrier estimated that weather-related cancellations reduced 2014 first quarter revenue by approximately $115 million. For the first quarter of 2014, American Airlines reported a GAAP net profit of $480 million compared to a net loss of $341 million in the first quarter of 2013. The company's GAAP results for first quarter 2013 reflected AMR Corporation prior to the merger. The quarter included $78 million of net special credits, primarily from the gain on the sale of slots at Washington's Reagan National Airport.
American Airlines noted in its 10Q filing that during the first quarter of 2014, the U.S. airline industry was significantly impacted by severe winter weather. February included the highest number of cancellations in the U.S. airline industry in 25 years. Despite these operational challenges, the U.S. airline industry experienced year-over-year growth in passenger revenues, driven by strong demand for air travel. Although the U.S. airline industry is benefiting from a favorable revenue environment and moderating fuel prices, uncertainty exists regarding the economic conditions driving these factors, according to the company's filing.
In a recent release, American Airlines Group revealed that total revenue passenger miles for April was 18.1 billion—up 4.7% versus April 2013. The company expects 2Q14 consolidated passenger revenue per available seat mile (or PRASM) to be up approximately 4% to 6% versus 2Q13.
According to J.D. Power's 2014 North America Airline Satisfaction Study, overall satisfaction with North American airline carriers improved for the second consecutive year, mainly driven by an increase in satisfaction with cost and fees. American Airlines/American Eagle saw an improvement by 24 points to 684 in 2014 and moved to the third position, behind Alaska Airlines and Delta Air Lines, who were ranked first and second, respectively.
To learn more about the latest hedge fund positions, see Market Realist's 13Fs for Hedge Fund Ownership page.