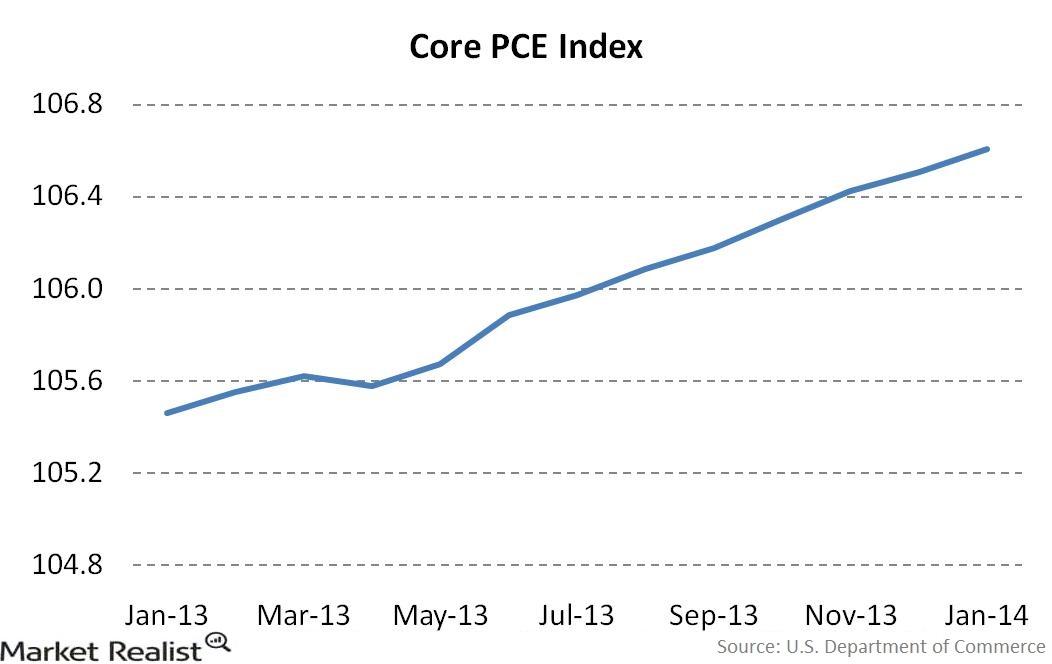 Must-know update: Economic trends in expenditure and prices
By Surbhi Jain

Nov. 26 2019, Updated 3:03 p.m. ET
The FOMC meeting
The FOMC meeting minutes were released on Wednesday, April 9. Participants commented on and discussed different sectors and the economic drivers including PCE, inflation, GDP, etc.
PCE
Real personal consumption expenditures (or PCE) increased a little, in net, in December and January. Households' net worth continued to expand as equity prices and home values increased further, and consumer sentiment in the Thomson Reuters/University of Michigan Surveys of Consumers during February and early March remained above its average, last fall. However, real disposable incomes only edged up in December and January.
Inflation
Article continues below advertisement
Total U.S. consumer price inflation, as measured by the PCE price index, was about 1.25% over the 12 months ending in January, continuing to run below the Committee's longer-run objective of 2%. As consumer energy prices rose faster than total consumer prices during that period, core PCE prices increased just a bit more than 1%. The core PCE price index excludes food and energy prices as they are of a more volatile nature.
Foreign real GDP
Foreign real gross domestic product (or GDP) expanded at a moderate pace with weak economic growth in Japan and Mexico offsetting stronger gains in many other economies. The economic recovery in the euro area appeared to be continuing, and the pace of Japanese economic growth looked to have picked up. In Canada, however, severe winter weather appeared to have held down economic activity in early 2014. Among the emerging market economies (or EMEs), economic growth was slow in China and other Asian economies in the 2014 first quarter, from a very robust 2013 fourth-quarter pace. Mexican real GDP growth slowed sharply in the fourth quarter, led by a contraction in the manufacturing sector, but recent indicators suggest some rebound in the current quarter.
The Vanguard FTSE Emerging Markets ETF (VWO), the iShares MSCI BRIC Index Fund (BKF), and the Dow Jones Emerging Markets Consumer Titans Index Fund (ECON) with companies like Naspers (NPN) and Wal-Mart de Mexico (WMT) in its portfolio, are popular exchange traded funds (or ETFs) in the emerging markets category. The performance of such ETFs provides vital indications with respect to the state of the emerging market economies like Brazil, Russia, India, and China.
The FOMC meeting went on to provide the staff's review of changes in the financial situation in the U.S. since the last FOMC meeting held on January 28-29, 2014.