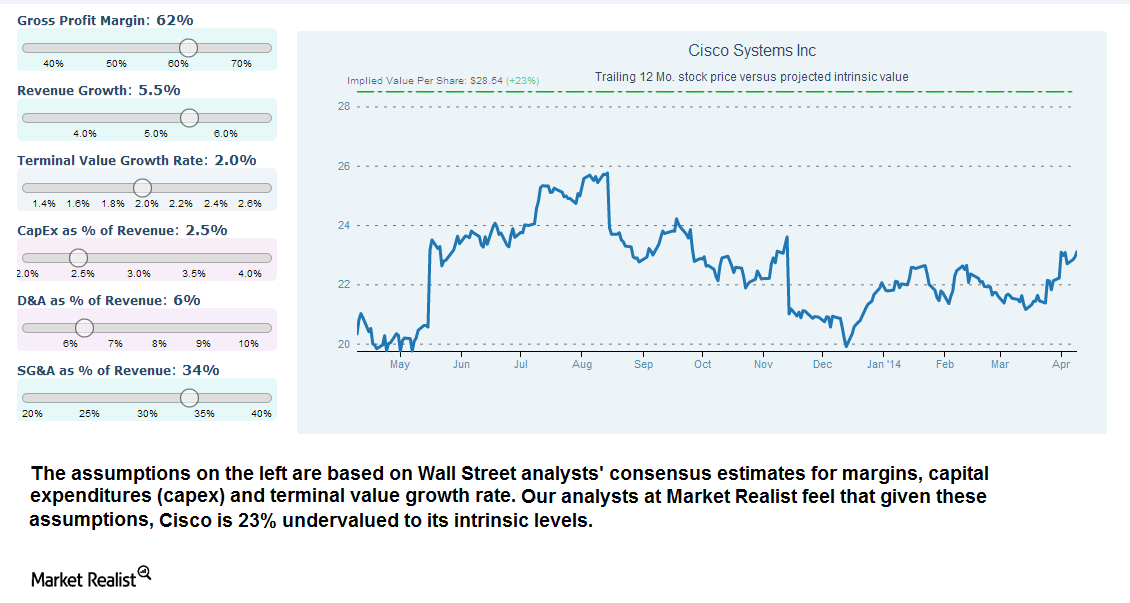 Must-know update: Why is Cisco undervalued? (FCF model included)
Cisco Systems
California-based Cisco Systems, Inc. (CSCO) designs, manufactures, and sells Internet Protocol (IP)-based networking and other products related to the communications and information technology (IT) industry and provides services associated with these products. The company has seen weak results and lower than expected forecasts in the recent past due to macroeconomic factors and challenges in emerging markets such as China. The stock is up 13% since 2013 and has underperformed the S&P 500 Index (SPX).
If you would like a copy of the above model, please contact divyadarshini@marketrealist.com.
Article continues below advertisement
Cisco, which was founded in 1984 and is known for its switches and routers, is undergoing a product transition in its core business under CEO John Chambers to take advantage of growing opportunities in data centers, cloud, mobility, security, and Internet of everything (IoE) . The transition coupled with challenges in emerging markets and enterprise IT spending cuts has impacted its core business, and Cisco is losing market share to rivals Huawei Technologies, Alcatel-Lucent (ALU), and Juniper Networks (JNPR). Cisco recently announced plans to enter the cloud computing market where it will compete with companies such as Amazon (AMZN), Microsoft (MSFT), and International Business Machines (IBM).
Cisco said in its filing that it is focusing on a market transition involving the move toward more programmable, flexible, and virtual networks, sometimes called software defined networking (or SDN). This transition is focused on moving from a hardware-centric approach for networking to a virtualized network environment that is designed to enable flexible, application-driven customization of network infrastructures. It plans to address the SDN opportunity, which would enable a more open and programmable network infrastructure, with a broad strategy and set of solutions.
Article continues below advertisement
The company conducts its business globally and manage the business by geography. Cisco's business is organized into the following three geographic segments: The Americas; Europe, Middle East, and Africa (EMEA); and Asia Pacific, Japan, and China (APJC). The networking giant has a broad customer base that encompasses virtually all types of public and private entities, including enterprise businesses, service providers, and commercial customers.
Cisco's products and technologies are grouped into the following categories.
Switching products
Switching products offer many forms of connectivity to end users, workstations, IP phones, access points, and servers and also function as aggregators on LANs and WANs. Cisco's switching systems employ several widely used technologies, including Ethernet, Power over Ethernet, Fibre Channel over Ethernet (FCoE), Packet over Synchronous Optical Network, and Multiprotocol Label Switching. During fiscal 2013, the company introduced a portfolio of modular, fixed-configuration, blade, and virtual LAN switches. Its data center switches such as Nexus 9000 with the Unified Data Center next-generation storage network are building blocks of an integrated network that delivers scalable and advanced functionality solutions.
Next Generation Network (NGN) Routing
Article continues below advertisement
This portfolio of hardware and software solutions consists primarily of routers and routing systems from core network infrastructure and mobile network for service providers and enterprises, to access routers for branch offices and for telecommuters and consumers at home. The company has enhanced its portfolio with strategic acquisitions such as Ubiquisys and architectural approach, which seek to combine silicon, systems, and software to enable the next-generation IoE. Last year, Cisco introduced the Carrier Routing System-X (CRS-X) to its existing CRS series with 400 Gigabit per second (Gbps) of slot capacity, ten times the capacity of the original CRS-1, which was introduced in 2004. With telecommunications service providers facing multiple challenges, such as limited scale, separate optical and Internet Protocol (IP) networks, and architectural constraints, the CRS-X expands the industry's most scalable elastic core networking platform.
Data Center
Data Center is Cisco's fastest growing major product category for the past three fiscal years. Its Unified Data Center is specifically designed for virtualization and automation and enables on-demand provisioning from shared pools of infrastructure across physical and virtual environments. The Unified Data Center unites computing, networking, storage, management, and virtualization into a single, fabric-based platform. The Cisco Unified Computing System (UCS) has been enhanced with software innovations with investments in data center and cloud management software via acquisitions such as Cloupia. It also introduced the Cisco Nexus 1000V InterCloud offering, which provides the architectural foundation for secure hybrid clouds, with the aim of allowing enterprises to easily and securely connect the enterprise data center to the public cloud.
Security
Article continues below advertisement
Cisco's Security portfolio of products and services offers identity, network, and content security solutions designed to enable customers to reduce the impact of threats and realize the benefits of a mobile, collaborative, and cloud-enabled business. Its products in this category include firewall, intrusion prevention, remote access, virtual private networks (VPNs), unified clients, network admission control, web gateways, and email gateways. The portfolio was enhanced via acquisitions of Cognitive Security and Sourcefire.
Service Provider Video
This includes end-to-end, digital video distribution systems and digital interactive set-top boxes. With the $5 billion acquisition of NDS in 2012, Cisco planned to combine NDS' video software and content security solutions with the delivery of Cisco Videoscape, Cisco's comprehensive content delivery platform that enables service providers and media companies to deliver next-generation entertainment experiences.
Collaboration
Article continues below advertisement
Collaboration portfolio integrates voice, video, data, and mobile applications on fixed and mobile networks across a wide range of devices and endpoints, including mobile phones, tablets, desktop and laptop computers, and desktop virtualization clients. In 2013, its Unified Communication offerings were expanded with the introduction of the Cisco Unified IP Conference Phone 8831 and Cisco Desktop Collaboration Experience DX650. It also announced a new release related to its Unified Communications Manager platform to deliver voice, video, messaging, mobility, and security functionality.
Wireless solutions
The company's wireless solutions include wireless access points; standalone, switch-converged, and cloud managed solutions; and network managed services. Connected Mobile Experience (CMX), a Wi-Fi location data analytics platform designed to enable its business customers to enhance the mobile device experiences of their customers and help create new monetization opportunities. It also expanded its Unified Access portfolio with Cisco 5760 Wireless LAN Controller and Cisco Catalyst 3850 Series Switches with the aim of converging wireline and mobile networks into one physical infrastructure. Its acquisitions of Meraki and ThinkSmart Technologies strengthened its Unified Access platform.
Other Products
This category primarily consists of certain emerging technologies and other networking products.
Service
Service includes technical support services and advanced services. Technical Support includes Cisco Smart Services offering, which leverages the intelligence from Cisco's millions of devices and customer connections to protect and optimize network investment for its customers and partners. Advanced services program supports networking devices, applications, solutions, and complete infrastructures. Its service and support strategy seeks to capitalize on increased globalization, and Cisco believes this strategy, along with its architectural approach, has the potential to further differentiate it from its competitors.